As a side issue to the PVOutput.org connector I've posted about in another thread, I've now just about written a NodeRed flow to achieve this (more later after further testing). However, I've hit a snag. I'm picking up Power1/Power2 data from my EmonTX via an RFM69Pi on a RaspPi2 running the 3rd May EmonSD image.
The RFM69Pi is pretty solidly picking up the EMonTX data via EmonHub and posting the data to EmonCMS.org.
So far so good.
That same data should turn up via MQTT in NodeRed for further twiddling, but is producing odd results.
So I tried just looping it and storing it straight back back into EmonCMS (but as a separate data stream).
The results are a little worrying…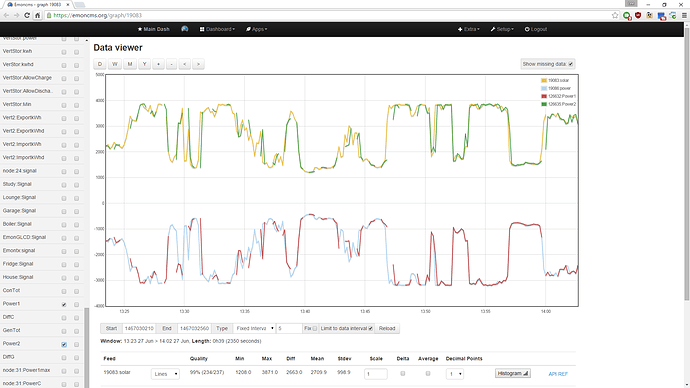 The Yellow and Blue are the feeds logged from EmonHub, all good. The Green & Red have gone via MQTT thru a Function and back to EmonCMS via the EmonCMS node. In theory they should be identical, but in practice there are missing chunks everywhere.
Anyone had this/noticed this before? Any solutions? Suggestions?