Hi there,
Part one: Rogue data
I am currently running version: 10.0.1 on a Raspberry Pi which I installed myself (it's not emonSD). For quite a few years it has worked mostly very well monitoring my mains usage, DIY solar generation etc.
Back a while some rogue data crept in. On the graphs this manifests itself as one day with a massive spike of positive "usage" and one day with a massive anti-spike of negative "usage".
Normal days: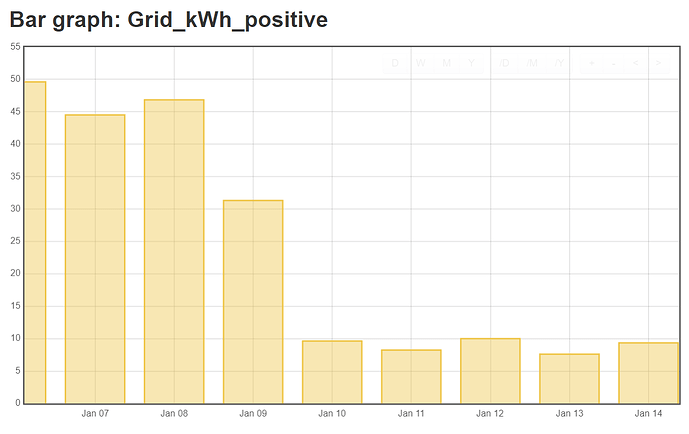 Rogue data on graph: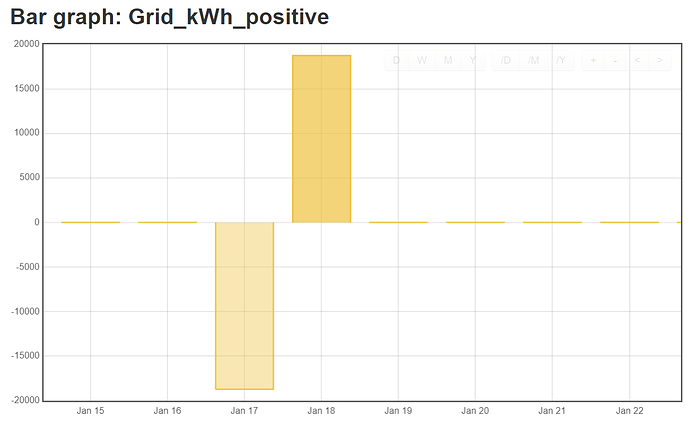 More normal days after the aberration:

I had suffered several power blips on/around the strange days, and I think this was the cause; as you can see it normalised afterwards and has been working fine ever since.
I don't mind the lost data, really. I can just accept that. But I would like to zap or zero the data on those two days so that when I'm looking at a broad sweep of time, it doesn't ruin the scale.
In my quest to do this I had a look at the tables in the mariadb and couldn't really make head nor tail of where to start with it. In doing some fiddling to achieve this I noticed I was far far behind on my EmonStuff versions, and probably ought to upgrade.
Part two: Upgrading
I upgraded the OS successfully just with apt-get upgrade.
However the buttons on the /emoncms/admin/view page do not work. They do nothing. I searched this forum and the first response everyone suggests is to post logs. But there is also nothing in the logs indicating why the upgrade buttons do not work. Perhaps this is only a function if you've used EmonSD? I am not sure.
My final thought was:
Since the Pi only does EmonStuff, should I, for an easy life, simply run EmonSD? And if I do that, is there an easy way to import the data from the old installation? I also searched this forum for how to export the data, and it seemed to refer to functions my admin page simply does not have… Which makes me wonder if I also didn't install it properly in the first place. I literally just have the /emoncms/admin/view page, and no other admin pages, or an admin toolbar etc.
Sorry for the ramble. Any help anyone can throw on any of these matters would be much appreciated.