Log emonPi remotely - doesn't work for me again
After a few days of enthusiasm that my local emonPi could now send data to emoncms.org, the system fails again.
Therefore, I re-open the case, as previously marketed as resolved.
I still do not know why it came to work, and therefore I do not know why it again fails.
emonPi / EmonHub / config:
[[Emoncmsorg]]
Type = EmonHubEmoncmsHTTPInterfacer
[[[Init_settings]]]
[[[Runtimesettings]]]
pubchannels = ToRFM12,
subchannels = ToEmonCMS,
url = https://emoncms.org
apikey = f4bb5f82d224170504c491e6xxxxxxxx
send data = 1 # Enable sending data to Emoncms.org
send status = 1 # Enable sending WAN IP to Emoncms.org MyIP> Emoncms - myip list
send interval = 30 # Bulk send interval to Emoncms.org in seconds
emonhub.log: [link]
EmonPi / EmonHub / Config
I see that there are no logins in emonhub.log showing that data is being sent to emoncms.org? Is it correct ?
My account name on emoncms.org is "Bielefeldt"
The problem must be in my emonPi, which uses firmware: emonSD-26Oct17
Has configured an ESP8266 that sends temperature data to emoncms.org on the same account and it can fine deliver its data to emoncms.org.
Therefore, the problem must be in eminPi.
But why could it work for a few days, and then suddenly fail again ?
emoncms.org feeds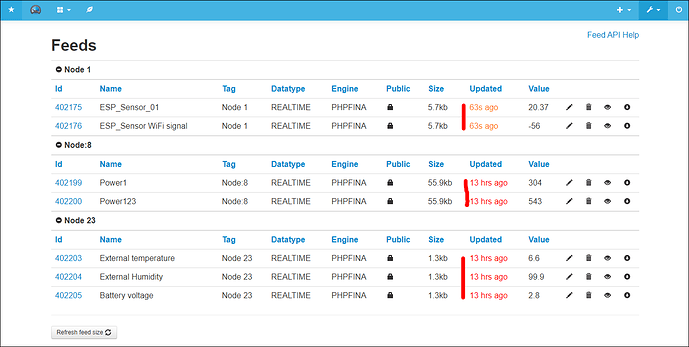 Graph with ESP sensor feed (Ok), temp and Humidity feed that dosn't work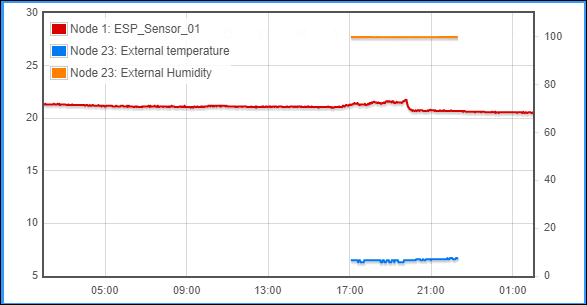 Power Feed graph from emonPi on emoncms.org