Good evening everyone,
I got an emonPi on which I have modified the node firmare to adapt to my monitoring needs. One modification seems to results in interpolation problems in the database. It is visible on graphs and CSV output where some data appear as missing
I have changed the timestep for sending electric power via the serial bus from 5s to 10s. I have also changed the calculation method to have an average value over the 10s period. On the emonCMS I have set a feed to log data every 10s via a PHPFINA feed engine.
When I display the electric power on a graph, some data could be missing depending on the on resolution I set (i.e. fixed interval). See from 7pm to 11pm on the figure below with a 60s resolution.
However the data exists because when I zoom in with a 5s time resolution, missing points reappear.
When still zoom in with a 10s resolution I get the following CSV table.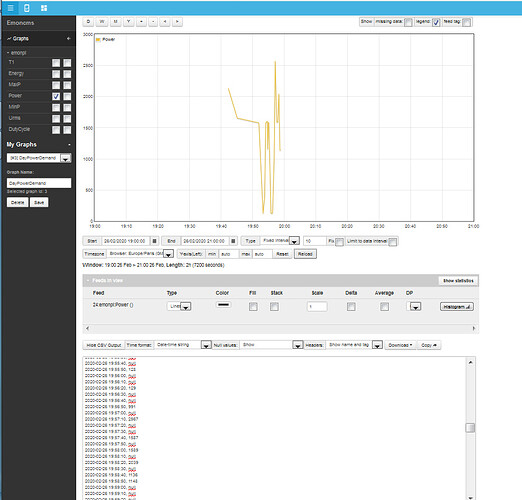 It is as if the process look only in a period of 5s every x second, with x the time resolution I set. If a data is available in the period of 5s, then the point is drawn on the graph. But sometimes there is no data available as the node send it every 10s only.
Does anyone have a solution? Do I miss something? I do not want the send data every 5s on the serial port as the node processor is quite busy by other routines.
Thanks a lot !