@Timbones @mjr I thought you might be interested in this situation which happens a lot in our house during the shoulder months.
The family throw all the doors and windows open and the internal temperature falls quite a bit - apparently down to 18 °C in this case from the more typical 21 °C. In fact in this case the heat pump's internal sensor got up to 22.5 °C because the "machine room" is getting a fair bit of sunshine at the start of the day.
Later, as it starts to cool down, they (sometimes) shut the house up and the solar gain warms us up again. With all the other things happening in the house, such as cooking it can even get up to 25 °C where the heat pump internal sensor is situated (see the purple line around 19:00).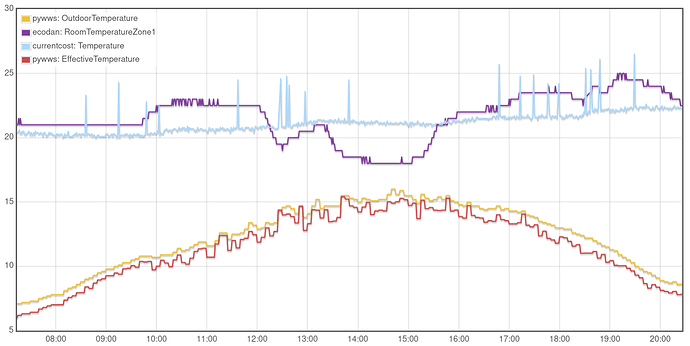 The blue line is in a room at the back of the house which doesn't have much activity so you can see it's much more stable (with a lot of weird spikiness I'm ignoring).
Given this excitement you can probably see why I'm a bit wary of leaning on the idea of there being a single "indoor" temperature which is why I was reticent about adding it to the MMSP heat pump app. I don't think it'd help anyone to start adding even more temperatures in the app though!
I'm assuming you are seeing different behaviours. I'd be interested to see them if you are willing to share.