Hi all… first post here so hope I've not missed something obvious
I've self installed (did all the plumbing) a Samsung Gen6 16kw ASHP.
I have the modbus module installed in the outdoor unit, I have an ESP8266 interfaced to the modbus module.The ESP is configured with ESPHOME , it is configured to read the modbus, all the modbus data is then logged into homeassistant sensors. I have flowT, returnT, flow rate in l/min, outdoorT, plus compressor frequency. All so far so good. I also have a CT clamp (again via an ESP8266) on the outdoor units AC power feed, logging kW input into home assistant.
After poking around with trying to calculate and graph COP for a week inside home assistant (I finished the heatpump install last weekend), I realised it'd be saner of me to make use of the work that's already been done here. so I've enabled the emoncms add-on for home assistant, emoncms is running on the same machine now. I've configured homeassistant to export the necessary sensors as inputs into emoncms. That's all working fine. I've configured emoncms feeds based on those inputs:
flowT → log
returnT → log
flowrate->log
outdoor temp->log
outdoor power input->log
( flowT minus returnT ) times (flowrate) times 0.07 → log (should equal kW heat output)
the numbers that I see in these feeds all look sane to me. so I'm ready to do something with the data.
I've enabled the emoncms "heatpump app" as I understand this to be the streamlined way to get a nice COP and such, but I must missing something. I can't get past the initial configuration screen of the "My Heat pump" app.
I've configured the values that I have feeds for, and set the others to disabled. But I only ever get the "delete" button at the bottom, I can't get to the point of the app running. I'm half expecting a "save" or similar button to appear once I've done it right… would that be correct expectation?
here's what I have: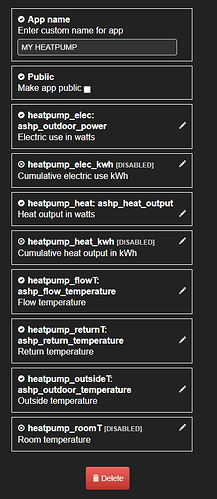 I did try to RTFM but I can't find a guide for this stage of the setup… what did I miss?
thanks
Ian