Hi. Complete newbie here so any input appreciated.
I have linked my Sontex supercal 531 bus output to a Mbus to USB connecter and connected to a raspberry pi running with the preloaded SD card. When I power on, it seems to get readings from the heatmeter as I get the following inputs: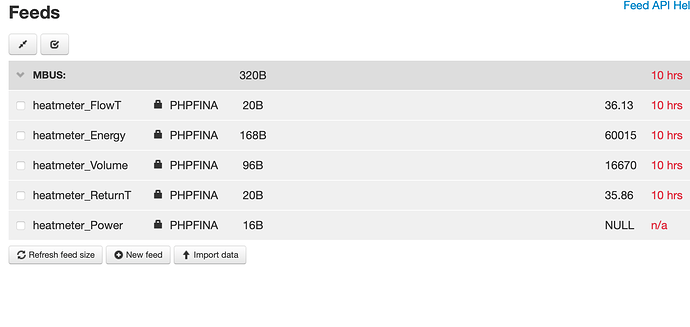 However, after that, I don't seem to get any updates. When I look at the log in emonhub, it just shows: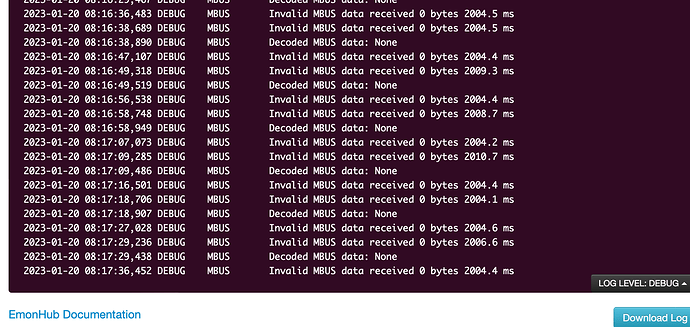 I have checked the baud rate on the meter and the address, which show as 2400 and 0 respectively on the heatmeter display. I have added the following to the config from others who have used this meter:
[[MBUS]]
    Type = EmonHubMBUSInterfacer
    [[[init_settings]]]
        device = /dev/ttyUSB0
        baud = 2400
    [[[runtimesettings]]]
        pubchannels = ToEmonCMS,
        read_interval = 10
        validate_checksum = False
        nodename = MBUS
        [[[[meters]]]]
            [[[[[heatmeter]]]]]
                address = 0
                type = sontex531

Would appreciate any direction to look to get this working ok. I will be adding in an SDM120 electric meter later today when my electrician installs it, so I want to connect that too.
Thanks for any direction