For those who might be curious. I started temperature mapping my greenhouse,. and I have being quite pleasantly surprised by their performance… especially on this very brutal winter we are having this year
over the last 10 years I built a couple "different" styles for harsh environments… and I think I will build one more larger one this summer - they do not cost that much ~$1000 for 1000 sqf of greenhouse
Manitoba Greenhouse ( university of manitoba cira 1968)
is a insulate slanted wall greenhouse that is well insulated on 3 wall.
advantage - low energy input in cold climates . disadvantage over heating and cost…
Chinese Greenhouse ( china cira 1978 which was based on UofM Greenhouse )
it is similar in construction to Manitoba Greenhouse biggest difference is it is high mass wall greenhouse.
advantages - naturally temperature moderated and much cheaper then the Manitoba greenhouse to build. disadvantage- moderate energy input in cold climate.
in both greenhouses I use a "passive" geothermal type heating for every square foot of greenhouse i bury equal length of ground loop that will circulate 300 gallons of water through the ground loop into low temp 300 gallon heat sink in the greenhouse operating cost is 20 - 46watts per hour or average yearly cost of $15.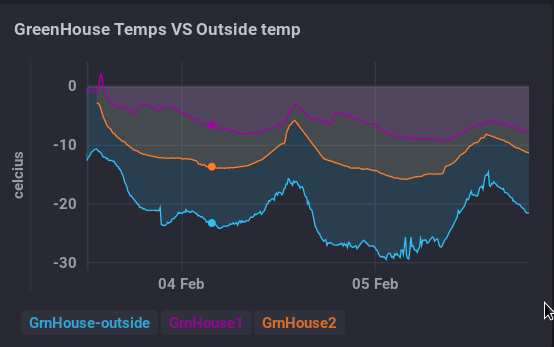 here is the temperate gradient for the middle winter, even when it was -43c outside the coldest days of -43c the greenhouses did not cool that much to - 18C which means mostly likely I did not even loose 1%- 5% of my fruit buds on my most tender trees ( nectarines)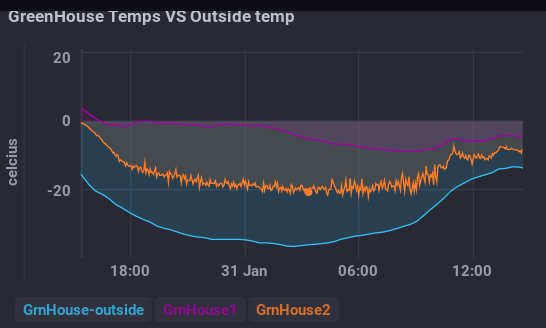 I operate the greenhouse seasonally - the growing season for them is mid March to mid Nov which for me adds on 4-5 extra months of growing season. the Manitoba greenhouse since it is a much hotter green house i generally grow tomatoes and pepper in there as they love it in the Chinese greenhouse I grow - zone 4-6 fruit trees ( figs, peaches, nectarines Italian plums etc) in a zone 2-3 region since it temperature moderated better they prefer it there. and i must admit their nothing like a fresh picked nectarines in the morning

each greenhouse style has advantages and disadvantages – but I think I prefer the chinese style… its over all growing season is about 1 month shorter then the Manitoba - but you get better growth due to less heat stress so it averages out to the same in the end for food production
but I you are thinking of year round greenhouse then a mixture of a Chinese and Manitoba greenhouse would be your best option which would entail building a Chinese greenhouse then wrap the exterior wall in 2 -4 in Styrofoam wall
(ps I know I spelt Celsius wrong I just have not corrected it yet

)