Hello Open Energy Community!
I am working on a system that measures the consumption of my office, but I have a problem with a specific measurement. This signal measures the consumption of light. In this case, my office has a photovoltaic system that sometimes feeds the lights and sometimes the lights are powered by the grid.
When the lights are fed by the grid, the measured signal is perfect. However, when the inverter of the PV system feeds the lights, the measurement shows peaks that correspond to the sensor measuring with another reference and parasitic currents (and in this case, the measurement should be zero).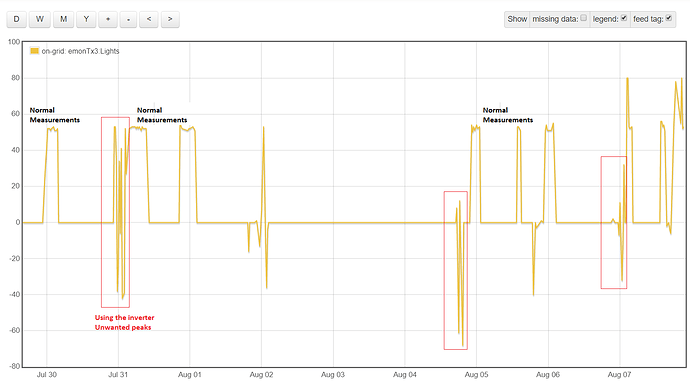 This info is being sent to nodeRED and I have already filtered and treated the signal in this platform and it's perfect!!! However, the real problem is that I must treat the signal from emonpi (or emon tx original signal) to generate correct and coherent feeds (kWh, wh accumulator, etc).
Can I implement a filter or code in any part of the emonTx (or in the base emonpi) to solve this problem?
Thank you very much guys. Sorry for the long message!