Hi folks,
getting to grips with emoncms now and liking how it works overall and the relative simplicity of getting sensors to work once you have worked it out.
Yesterday morning I decided to rename my feeds as I hadn't realised that this was a necessary step if you didn't want to see too many "emonth_temperature" popping up in the feed list on the android app.
Since then, visualising the feeds in the browser has been a bit of a hit and miss. On once sensor, there is a gap of data showing since 9am yesterday until 6 pm today when data starts showing up again. Another sensor only starts showing data today at 2pm even though it was on since 10am yesteday (and logging data which can be seen in the android app). See below.
Any clues to what could be preventing the browser from showing a chunck of data and why it would start showing all of a sudden, noting that the emoncms android app is not showing this problem?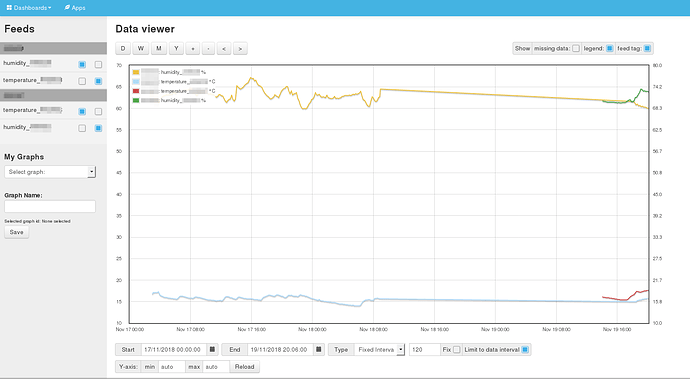 I guess you an see the straight line joining the two points in time. Renaming the feeds seems to have triggered this but surely it should be allowed renaming if it was going to break things?