I have just noticed a weird situation and have no idea what is happening. Would welcome any thoughts as to what is going on and/or how to investigate it.
I have a graph that summarises my electricity usage. It has behaved well for a long time but in the last two days something strange seems to be happening. I'll show a normal page first: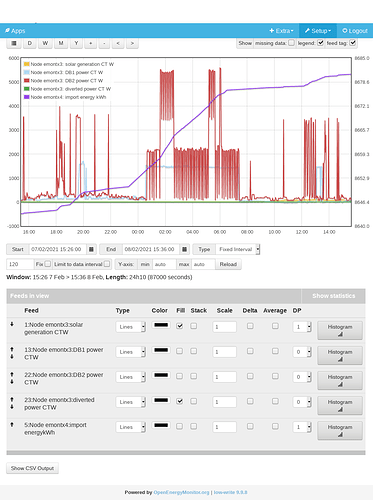 emontx3 is monitoring my CUs in the house where my emonBase is. It has four CTs fitted on my solar generation circuit (yellow), the power diverted to my immersion heater (green), and the power through the two distribution boards (blue and red). emontx4 is in the garage near the main electricity meter and the graph shows the grid import energy (purple).
So you can see various red spikes during the evening as the kettle is used and a bit between 1930-1950 where the immersion is on, plus dinnertime cooking. Then there's a major red lump overnight as the duct heater comes on, with two extra bursts from the immersion heater. There's more the next morning. You can also see some blue blocks where radiant heaters come on around 2000 and overnight. There's not much solar or consequent diversion to confuse things.
The purple line of energy used roughly corresponds to the power used, although even here the timing is a little bit off, with the energy usage starting to climb about an hour before the power draw starts.
Then if we look at the current day's graph: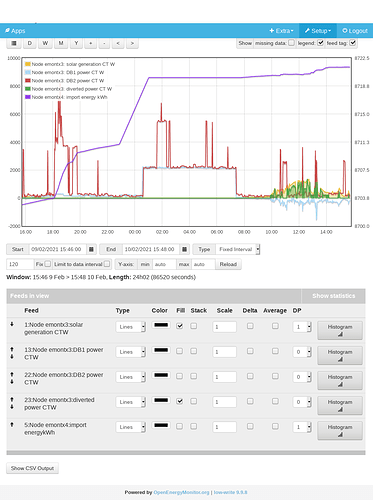 We can see that the energy graph is totally out of sync with the power usage. The energy usage is practically flat whilst the major overnight power draw is taking place!
All feeds are PHPFINA. Import energy is a Power to kWh 'kwh' feed.
I think one factor that may be relevant is that emontx4 suffers from frequent radio transmission problems that have been especially bad in the current weather: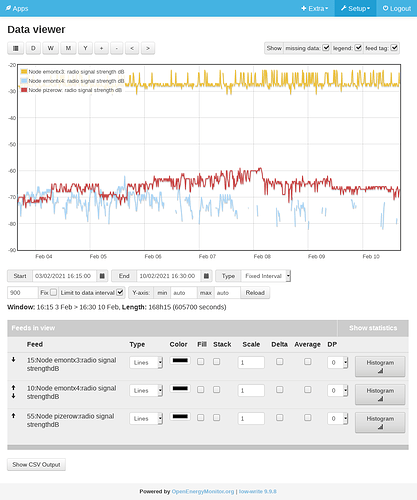 The interrupted blue line is emontx radio strength. Yellow is the nearby emontx3 and red is a Pi Zero W that feeds some other temperature and humidity data in. There are no interruptions shown for the purple line, which I think is a feature of the feed type. All timestamps correspond with the apparent time on the graphs when I check individual points on the graph.
Is there some problem of synchronisation with PHPFINA feeds and poor radio transmission?