I just downloaded the latest Oct18 image and stuck it in a Pi 3, Not something I do often so here's a couple of observations/questions
When I first navigated to http://emonpi I got this screen
Since I am already connected via wifi as I put a copy of wpa_supplicant.conf in the boot partition before putting the sdcard in in the Pi I don't need either of those options. Could we have a "Skip" option for users that use the same method as I used, plus some users will opt for Ethernet cable rather than wifi.
Clicking log in takes me to the registration screen.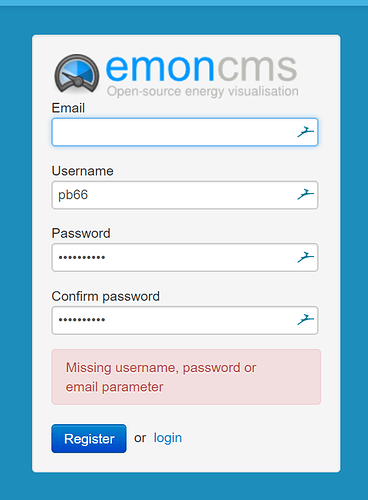 Why is it essential I provide an email address for a device that has no email server or client installed? I understand why the emoncms.org server insists, but this is not really required here. IIRC it's just a setting in settings.php, so why is it not off by default for the emonSD?

Mmmmh! So why am I not packing the latest emoncms?
when I download the update log from the admin page I get a file containing one line which is "/home/pi/data/emonpiupdate.log does not exist!" so why did first boot not run?
So I'm rebooting now, maybe "firstboot" will run on the "Second boot"? I'll keep you posted!