emonPi to emoncms.org communication error
After an internet outage, I am experiencing problems with my emonPi.
All the local data feeds work fine and everything is okay.
But some feeds are sent to emoncms.org, and here all communication is stopped.
However, I do have an ESP8266 device that continues to log temperature on emoncms.org and it works as it should.
Thus, only emonPi communication to emoncms.org fails.
Hope someone can give me a tip about what to do for solve the problem.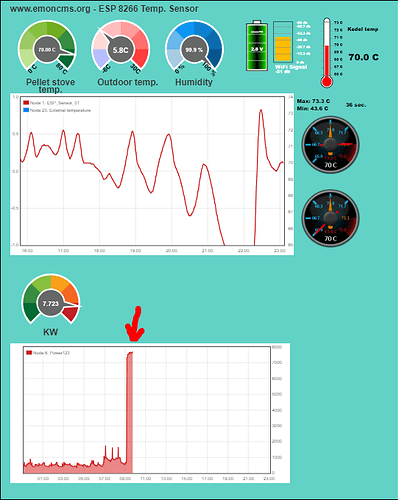 Emoncms.log
2019-12-08 08:35:46.254|ERROR|index.php|Not Authenticated|dashboard
2019-12-10 13:55:45.484|WARN|index.php|406 Not Acceptable|niceports/Trinity
2019-12-10 13:56:10.259|WARN|index.php|406 Not Acceptable|niceports/Trinity
2019-12-10 15:15:49.590|WARN|index.php|406 Not Acceptable|niceports/Trinity
2019-12-10 15:16:03.518|WARN|index.php|406 Not Acceptable|niceports/Trinity
2019-12-11 08:43:50.714|WARN|index.php|406 Not Acceptable|niceports/Trinity
2019-12-11 08:44:15.105|WARN|index.php|406 Not Acceptable|niceports/Trinity
2019-12-11 09:05:45.037|WARN|index.php|406 Not Acceptable|niceports/Trinity
2019-12-11 09:05:54.982|WARN|index.php|406 Not Acceptable|niceports/Trinity
2019-12-11 11:21:07.348|WARN|index.php|406 Not Acceptable|niceports/Trinity
2019-12-11 11:21:17.689|WARN|index.php|406 Not Acceptable|niceports/Trinity
2019-12-11 13:00:33.593|WARN|index.php|406 Not Acceptable|niceports/Trinity
2019-12-11 13:01:10.085|WARN|index.php|406 Not Acceptable|niceports/Trinity
2019-12-11 13:09:24.155|WARN|index.php|406 Not Acceptable|niceports/Trinity
2019-12-11 13:10:01.013|WARN|index.php|406 Not Acceptable|niceports/Trinity
2019-12-11 13:28:57.310|WARN|index.php|406 Not Acceptable|niceports/Trinity
2019-12-11 13:29:33.208|WARN|index.php|406 Not Acceptable|niceports/Trinity
2019-12-11 13:40:35.323|WARN|index.php|406 Not Acceptable|niceports/Trinity
2019-12-11 13:40:46.537|WARN|index.php|406 Not Acceptable|niceports/Trinity
2019-12-11 14:14:45.612|WARN|index.php|406 Not Acceptable|niceports/Trinity
2019-12-11 14:15:22.501|WARN|index.php|406 Not Acceptable|niceports/Trinity
2019-12-11 15:08:16.918|WARN|index.php|406 Not Acceptable|api/nouser/config
2019-12-11 15:08:16.979|WARN|index.php|406 Not Acceptable|api/nouser/config
2019-12-11 15:47:02.570|WARN|index.php|406 Not Acceptable|niceports/Trinity
2019-12-11 15:47:38.821|WARN|index.php|406 Not Acceptable|niceports/Trinity
2019-12-11 21:32:12.169|ERROR|index.php|Not Admin|admin/view
2019-12-11 21:33:22.133|ERROR|index.php|Not Admin|admin/view
2019-12-11 21:33:22.240|WARN|emoncms_mqtt.php|Not connected, retrying connection
2019-12-11 21:33:22.294|WARN|emoncms_mqtt.php|Connecting to MQTT server: Connection Accepted.: code: 0
2019-12-11 21:34:17.072|ERROR|index.php|Not Authenticated|dashboard/view/power
2019-12-11 21:52:39.615|WARN|emoncms_mqtt.php|Not connected, retrying connection
2019-12-11 21:52:39.674|WARN|emoncms_mqtt.php|Connecting to MQTT server: Connection Accepted.: code: 0
2019-12-11 21:53:40.612|ERROR|index.php|Not Admin|admin/view

Emonhub.log
ToEmonCMS
2019-12-11 21:56:43,579 DEBUG    MQTT       Publishing: emon/emontx3/power1 2493
2019-12-11 21:56:43,582 DEBUG    MQTT       Publishing: emon/emontx3/power2 2761
2019-12-11 21:56:43,584 DEBUG    MQTT       Publishing: emon/emontx3/power3 -157
2019-12-11 21:56:43,586 DEBUG    MQTT       Publishing: emon/emontx3/power4 2339
2019-12-11 21:56:43,588 DEBUG    MQTT       Publishing: emon/emontx3/vrms 245.74
2019-12-11 21:56:43,590 DEBUG    MQTT       Publishing: emon/emontx3/temp1 20
2019-12-11 21:56:43,592 DEBUG    MQTT       Publishing: emon/emontx3/temp2 300
2019-12-11 21:56:43,594 DEBUG    MQTT       Publishing: emon/emontx3/temp3 300
2019-12-11 21:56:43,596 DEBUG    MQTT       Publishing: emon/emontx3/temp4 300
2019-12-11 21:56:43,598 DEBUG    MQTT       Publishing: emon/emontx3/temp5 300
2019-12-11 21:56:43,600 DEBUG    MQTT       Publishing: emon/emontx3/temp6 300
2019-12-11 21:56:43,602 DEBUG    MQTT       Publishing: emon/emontx3/pulse 1
2019-12-11 21:56:43,604 DEBUG    MQTT       Publishing: emon/emontx3/rssi -73
2019-12-11 21:56:43,606 INFO     MQTT       Publishing: emonhub/rx/8/values 2493,2761,-157,2339,245.74,20,300,300,300,300,300,1,-73
2019-12-11 21:56:44,821 DEBUG    RFM2Pi     81 NEW FRAME : OK 5 0 0 0 0 0 0 0 0 0 0 0 0 0 0 0 0 0 0 0 0 0 0 0 0 (-0)
2019-12-11 21:56:44,826 DEBUG    RFM2Pi     81 Timestamp : 1576101404.82
2019-12-11 21:56:44,827 DEBUG    RFM2Pi     81 From Node : 5
2019-12-11 21:56:44,828 DEBUG    RFM2Pi     81    Values : [0, 0, 0, 0, 0, 0, 0, 0, 0, 0, 0]
2019-12-11 21:56:44,829 DEBUG    RFM2Pi     81 Sent to channel(start)' : ToEmonCMS
2019-12-11 21:56:44,829 DEBUG    RFM2Pi     81 Sent to channel(end)' : ToEmonCMS
2019-12-11 21:56:44,841 DEBUG    MQTT       Publishing: emon/emonpi/power1 0
2019-12-11 21:56:44,843 DEBUG    MQTT       Publishing: emon/emonpi/power2 0
2019-12-11 21:56:44,846 DEBUG    MQTT       Publishing: emon/emonpi/power1pluspower2 0
2019-12-11 21:56:44,848 DEBUG    MQTT       Publishing: emon/emonpi/vrms 0
2019-12-11 21:56:44,850 DEBUG    MQTT       Publishing: emon/emonpi/t1 0
2019-12-11 21:56:44,851 DEBUG    MQTT       Publishing: emon/emonpi/t2 0
2019-12-11 21:56:44,853 DEBUG    MQTT       Publishing: emon/emonpi/t3 0
2019-12-11 21:56:44,856 DEBUG    MQTT       Publishing: emon/emonpi/t4 0
2019-12-11 21:56:44,858 DEBUG    MQTT       Publishing: emon/emonpi/t5 0
2019-12-11 21:56:44,860 DEBUG    MQTT       Publishing: emon/emonpi/t6 0
2019-12-11 21:56:44,862 DEBUG    MQTT       Publishing: emon/emonpi/pulsecount 0
2019-12-11 21:56:44,864 INFO     MQTT       Publishing: emonhub/rx/5/values 0,0,0,0,0,0,0,0,0,0,0
2019-12-11 21:56:45,115 DEBUG    RFM2Pi     Discarding RX frame 'unreliable content'? 2 203 116 62 227 203 232 194 185 3 217 184 156 79 185 135 15 220 241 11 232 (-91)
2019-12-11 21:56:48,441 DEBUG    RFM2Pi     Discarding RX frame 'unreliable content'? 16 57 52 17 1 227 200 207 190 243 18 134 205 193 120 103 51 137 185 164 125 (-86)
2019-12-11 21:56:49,756 DEBUG    RFM2Pi     82 NEW FRAME : OK 5 0 0 0 0 0 0 0 0 0 0 0 0 0 0 0 0 0 0 0 0 0 0 0 0 (-0)
2019-12-11 21:56:49,761 DEBUG    RFM2Pi     82 Timestamp : 1576101409.76
2019-12-11 21:56:49,762 DEBUG    RFM2Pi     82 From Node : 5
2019-12-11 21:56:49,764 DEBUG    RFM2Pi     82    Values : [0, 0, 0, 0, 0, 0, 0, 0, 0, 0, 0]
2019-12-11 21:56:49,765 DEBUG    RFM2Pi     82 Sent to channel(start)' : ToEmonCMS
2019-12-11 21:56:49,766 DEBUG    RFM2Pi     82 Sent to channel(end)' : ToEmonCMS
2019-12-11 21:56:49,911 DEBUG    MQTT       Publishing: emon/emonpi/power1 0
2019-12-11 21:56:49,914 DEBUG    MQTT       Publishing: emon/emonpi/power2 0
2019-12-11 21:56:49,916 DEBUG    MQTT       Publishing: emon/emonpi/power1pluspower2 0
2019-12-11 21:56:49,918 DEBUG    MQTT       Publishing: emon/emonpi/vrms 0
2019-12-11 21:56:49,920 DEBUG    MQTT       Publishing: emon/emonpi/t1 0
2019-12-11 21:56:49,922 DEBUG    MQTT       Publishing: emon/emonpi/t2 0
2019-12-11 21:56:49,924 DEBUG    MQTT       Publishing: emon/emonpi/t3 0
2019-12-11 21:56:49,926 DEBUG    MQTT       Publishing: emon/emonpi/t4 0
2019-12-11 21:56:49,928 DEBUG    MQTT       Publishing: emon/emonpi/t5 0
2019-12-11 21:56:49,930 DEBUG    MQTT       Publishing: emon/emonpi/t6 0
2019-12-11 21:56:49,932 DEBUG    MQTT       Publishing: emon/emonpi/pulsecount 0
2019-12-11 21:56:49,934 INFO     MQTT       Publishing: emonhub/rx/5/values 0,0,0,0,0,0,0,0,0,0,0
2019-12-11 21:56:51,987 DEBUG    RFM2Pi     Discarding RX frame 'unreliable content'? 10 124 203 107 161 70 251 230 118 255 58 186 68 121 62 36 130 253 113 216 75 (-87)
2019-12-11 21:56:52,097 DEBUG    RFM2Pi     Discarding RX frame 'unreliable content'? 18 55 7 79 196 167 97 158 25 222 254 91 230 185 151 74 126 117 213 139 143 (-85)
2019-12-11 21:56:52,709 DEBUG    RFM2Pi     Discarding RX frame 'unreliable content'? 5 85 87 212 229 5 57 53 236 178 149 183 57 122 96 97 13 56 213 139 143 (-86)
2019-12-11 21:56:53,423 DEBUG    RFM2Pi     83 NEW FRAME : OK 8 189 9 177 10 96 255 57 9 105 96 200 0 184 11 184 11 184 11 184 11 184 11 1 0 0 0 (-74)
2019-12-11 21:56:53,428 DEBUG    RFM2Pi     83 Timestamp : 1576101413.42
2019-12-11 21:56:53,429 DEBUG    RFM2Pi     83 From Node : 8
2019-12-11 21:56:53,430 DEBUG    RFM2Pi     83    Values : [2493, 2737, -160, 2361, 246.81, 20, 300, 300, 300, 300, 300, 1]
2019-12-11 21:56:53,431 DEBUG    RFM2Pi     83      RSSI : -74
2019-12-11 21:56:53,432 DEBUG    RFM2Pi     83 Sent to channel(start)' : ToEmonCMS
2019-12-11 21:56:53,432 DEBUG    RFM2Pi     83 Sent to channel(end)' : ToEmonCMS
2019-12-11 21:56:53,544 DEBUG    RFM2Pi     Discarding RX frame 'unreliable content'? 30 139 198 246 124 20 145 16 111 51 145 152 39 104 67 22 49 132 139 27 229 (-86)
2019-12-11 21:56:53,636 DEBUG    MQTT       Publishing: emon/emontx3/power1 2493
2019-12-11 21:56:53,637 DEBUG    emoncmsorg2 Buffer size: 82
2019-12-11 21:56:53,643 INFO     emoncmsorg2 sending: https://emoncms.org/input/bulk.json?apikey=E-M-O-N-C-M-S-A-P-I-K-E-Y&data=[[1576101155.078057,23,5,4.7,99.9,2.8000000000000003,1,-68],[1576101155.413217,5,0,0,0,0,0,0,0,0,0,0,0],[1576101155.536877,8,2527,2747,-141,2359,247.45000000000002,20,300,300,300,300,300,1,-75],[1576101159.339475,5,0,0,0,0,0,0,0,0,0,0,0],[1576101164.307218,5,0,0,0,0,0,0,0,0,0,0,0],[1576101165.230045,8,2616,2784,-82,2467,246.69,20,300,300,300,300,300,1,-74],[1576101169.31506,5,0,0,0,0,0,0,0,0,0,0,0],[1576101174.302818,5,0,0,0,0,0,0,0,0,0,0,0],[1576101175.14348,8,2556,2779,-105,2459,246.96,20.1,300,300,300,300,300,1,-74],[1576101179.312766,5,0,0,0,0,0,0,0,0,0,0,0],[1576101184.30587,5,0,0,0,0,0,0,0,0,0,0,0],[1576101185.041785,8,2496,2740,-147,2343,246.81,20,300,300,300,300,300,1,-72],[1576101189.29007,5,0,0,0,0,0,0,0,0,0,0,0],[1576101194.352794,5,0,0,0,0,0,0,0,0,0,0,0],[1576101195.008908,8,2494,2753,-153,2344,246.66,20,300,300,300,300,300,1,-74],[1576101199.334303,5,0,0,0,0,0,0,0,0,0,0,0],[1576101204.390985,5,0,0,0,0,0,0,0,0,0,0,0],[1576101204.913043,8,2512,2744,-159,2341,247.3,20.1,300,300,300,300,300,1,-73],[1576101209.320965,5,0,0,0,0,0,0,0,0,0,0,0],[1576101214.280629,5,0,0,0,0,0,0,0,0,0,0,0],[1576101214.951919,8,2495,2765,-159,2361,247.78,20,300,300,300,300,300,1,-74],[1576101215.672166,23,5,4.7,99.9,2.8000000000000003,1,-67],[1576101219.282532,5,0,0,0,0,0,0,0,0,0,0,0],[1576101224.318924,5,0,0,0,0,0,0,0,0,0,0,0],[1576101224.786368,8,2499,2763,-171,2358,247.77,20,300,300,300,300,300,1,-73],[1576101229.291932,5,0,0,0,0,0,0,0,0,0,0,0],[1576101234.381202,5,0,0,0,0,0,0,0,0,0,0,0],[1576101234.701906,8,2631,2759,-162,2356,247.66,20,300,300,300,300,300,1,-73],[1576101239.369658,5,0,0,0,0,0,0,0,0,0,0,0],[1576101244.355897,5,0,0,0,0,0,0,0,0,0,0,0],[1576101244.62305,8,2499,2753,-162,2358,247.76000000000002,20,300,300,300,300,300,1,-73],[1576101249.325675,5,0,0,0,0,0,0,0,0,0,0,0],[1576101254.385038,5,0,0,0,0,0,0,0,0,0,0,0],[1576101254.6051,8,2503,2758,-160,2363,247.27,20,300,300,300,300,300,1,-73],[1576101259.44726,5,0,0,0,0,0,0,0,0,0,0,0],[1576101264.489216,5,0,0,0,0,0,0,0,0,0,0,0],[1576101264.609851,8,2527,2690,-159,2360,247.29,20,300,300,300,300,300,1,-73],[1576101269.375695,5,0,0,0,0,0,0,0,0,0,0,0],[1576101274.397201,5,0,0,0,0,0,0,0,0,0,0,0],[1576101274.515662,8,2501,2739,-165,2363,247.26000000000002,20,300,300,300,300,300,1,-73],[1576101277.920149,23,5,4.7,99.9,2.8000000000000003,1,-69],[1576101279.454346,5,0,0,0,0,0,0,0,0,0,0,0],[1576101284.380846,8,2494,2759,-166,2358,247.56,20,300,300,300,300,300,1,-73],[1576101284.510897,5,0,0,0,0,0,0,0,0,0,0,0],[1576101289.45419,5,0,0,0,0,0,0,0,0,0,0,0],[1576101294.323254,8,2499,2698,259,2350,246.32,20,300,300,300,300,300,1,-72],[1576101294.540709,5,0,0,0,0,0,0,0,0,0,0,0],[1576101299.490942,5,0,0,0,0,0,0,0,0,0,0,0],[1576101304.160768,8,2502,2745,-170,2362,247.47,20,300,300,300,300,300,1,-73],[1576101304.579955,5,0,0,0,0,0,0,0,0,0,0,0],[1576101309.48813,5,0,0,0,0,0,0,0,0,0,0,0],[1576101314.156949,8,2499,2761,-161,2368,247.58,20,300,300,300,300,300,1,-74],[1576101314.592014,5,0,0,0,0,0,0,0,0,0,0,0],[1576101319.562665,5,0,0,0,0,0,0,0,0,0,0,0],[1576101324.106004,8,2502,2765,-162,2362,247.37,20,300,300,300,300,300,1,-72],[1576101324.626275,5,0,0,0,0,0,0,0,0,0,0,0],[1576101329.573202,5,0,0,0,0,0,0,0,0,0,0,0],[1576101333.995594,8,2492,2766,-169,2354,247.12,20,300,300,300,300,300,1,-74],[1576101334.617851,5,0,0,0,0,0,0,0,0,0,0,0],[1576101339.569636,5,0,0,0,0,0,0,0,0,0,0,0],[1576101340.040916,23,5,4.7,99.9,2.8000000000000003,1,-69],[1576101343.881571,8,2505,2765,-163,2363,247.16,20,300,300,300,300,300,1,-71],[1576101344.702292,5,0,0,0,0,0,0,0,0,0,0,0],[1576101349.620419,5,0,0,0,0,0,0,0,0,0,0,0],[1576101354.615879,5,0,0,0,0,0,0,0,0,0,0,0],[1576101359.637488,5,0,0,0,0,0,0,0,0,0,0,0],[1576101363.732365,8,2494,2731,-160,2365,246.9,20,300,300,300,300,300,1,-73],[1576101364.771877,5,0,0,0,0,0,0,0,0,0,0,0],[1576101369.625463,5,0,0,0,0,0,0,0,0,0,0,0],[1576101373.751074,8,2500,2772,-159,2348,246.14000000000001,20,300,300,300,300,300,1,-72],[1576101374.704309,5,0,0,0,0,0,0,0,0,0,0,0],[1576101379.67722,5,0,0,0,0,0,0,0,0,0,0,0],[1576101383.645288,8,2506,2761,-162,2338,246.08,20,300,300,300,300,300,1,-74],[1576101384.815772,5,0,0,0,0,0,0,0,0,0,0,0],[1576101389.770314,5,0,0,0,0,0,0,0,0,0,0,0],[1576101393.573722,8,2489,2736,-162,2354,246.66,20,300,300,300,300,300,1,-73],[1576101394.734048,5,0,0,0,0,0,0,0,0,0,0,0],[1576101399.693813,5,0,0,0,0,0,0,0,0,0,0,0],[1576101402.230433,23,5,4.7,99.9,2.8000000000000003,1,-64],[1576101403.497316,8,2493,2761,-157,2339,245.74,20,300,300,300,300,300,1,-73],[1576101404.820901,5,0,0,0,0,0,0,0,0,0,0,0],[1576101409.755735,5,0,0,0,0,0,0,0,0,0,0,0]]&sentat=1576101413
2019-12-11 21:56:53,644 DEBUG    MQTT       Publishing: emon/emontx3/power2 2737
2019-12-11 21:56:53,651 DEBUG    MQTT       Publishing: emon/emontx3/power3 -160
2019-12-11 21:56:53,654 DEBUG    MQTT       Publishing: emon/emontx3/power4 2361
2019-12-11 21:56:53,656 DEBUG    MQTT       Publishing: emon/emontx3/vrms 246.81
2019-12-11 21:56:53,658 DEBUG    MQTT       Publishing: emon/emontx3/temp1 20
2019-12-11 21:56:53,660 DEBUG    MQTT       Publishing: emon/emontx3/temp2 300
2019-12-11 21:56:53,662 DEBUG    MQTT       Publishing: emon/emontx3/temp3 300
2019-12-11 21:56:53,665 DEBUG    MQTT       Publishing: emon/emontx3/temp4 300
2019-12-11 21:56:53,667 DEBUG    MQTT       Publishing: emon/emontx3/temp5 300
2019-12-11 21:56:53,669 DEBUG    MQTT       Publishing: emon/emontx3/temp6 300
2019-12-11 21:56:53,674 DEBUG    MQTT       Publishing: emon/emontx3/pulse 1
2019-12-11 21:56:53,676 DEBUG    MQTT       Publishing: emon/emontx3/rssi -74
2019-12-11 21:56:53,679 INFO     MQTT       Publishing: emonhub/rx/8/values 2493,2737,-160,2361,246.81,20,300,300,300,300,300,1,-74
2019-12-11 21:56:53,858 DEBUG    RFM2Pi     Discarding RX frame 'unreliable content'? 13 154 61 153 250 40 219 176 162 207 209 230 39 104 67 22 49 132 139 27 229 (-84)
2019-12-11 21:56:54,781 DEBUG    RFM2Pi     84 NEW FRAME : OK 5 0 0 0 0 0 0 0 0 0 0 0 0 0 0 0 0 0 0 0 0 0 0 0 0 (-0)
2019-12-11 21:56:54,787 DEBUG    RFM2Pi     84 Timestamp : 1576101414.78
2019-12-11 21:56:54,788 DEBUG    RFM2Pi     84 From Node : 5
2019-12-11 21:56:54,790 DEBUG    RFM2Pi     84    Values : [0, 0, 0, 0, 0, 0, 0, 0, 0, 0, 0]
2019-12-11 21:56:54,791 DEBUG    RFM2Pi     84 Sent to channel(start)' : ToEmonCMS
2019-12-11 21:56:54,792 DEBUG    RFM2Pi     84 Sent to channel(end)' : ToEmonCMS
2019-12-11 21:56:54,816 DEBUG    MQTT       Publishing: emon/emonpi/power1 0
2019-12-11 21:56:54,819 DEBUG    MQTT       Publishing: emon/emonpi/power2 0
2019-12-11 21:56:54,821 DEBUG    MQTT       Publishing: emon/emonpi/power1pluspower2 0
2019-12-11 21:56:54,823 DEBUG    MQTT       Publishing: emon/emonpi/vrms 0
2019-12-11 21:56:54,825 DEBUG    MQTT       Publishing: emon/emonpi/t1 0
2019-12-11 21:56:54,827 DEBUG    MQTT       Publishing: emon/emonpi/t2 0
2019-12-11 21:56:54,829 DEBUG    MQTT       Publishing: emon/emonpi/t3 0
2019-12-11 21:56:54,831 DEBUG    MQTT       Publishing: emon/emonpi/t4 0
2019-12-11 21:56:54,833 DEBUG    MQTT       Publishing: emon/emonpi/t5 0
2019-12-11 21:56:54,836 DEBUG    MQTT       Publishing: emon/emonpi/t6 0
2019-12-11 21:56:54,837 DEBUG    MQTT       Publishing: emon/emonpi/pulsecount 0
2019-12-11 21:56:54,840 INFO     MQTT       Publishing: emonhub/rx/5/values 0,0,0,0,0,0,0,0,0,0,0
2019-12-11 21:56:56,309 DEBUG    RFM2Pi     Discarding RX frame 'unreliable content'? 13 248 45 121 146 135 216 236 209 163 142 107 132 215 2 248 180 190 77 4 133 (-86)
2019-12-11 21:56:58,668 DEBUG    RFM2Pi     Discarding RX frame 'unreliable content'? 25 209 224 31 109 134 151 90 114 111 21 14 106 21 172 50 77 153 208 241 241 (-87)
2019-12-11 21:56:58,982 DEBUG    RFM2Pi     Discarding RX frame 'unreliable content'? 17 70 67 241 140 20 36 105 63 244 46 27 56 83 97 31 46 167 184 120 32 (-86)
2019-12-11 21:56:59,692 DEBUG    RFM2Pi     85 NEW FRAME : OK 5 0 0 0 0 0 0 0 0 0 0 0 0 0 0 0 0 0 0 0 0 0 0 0 0 (-0)
2019-12-11 21:56:59,697 DEBUG    RFM2Pi     85 Timestamp : 1576101419.69
2019-12-11 21:56:59,698 DEBUG    RFM2Pi     85 From Node : 5
2019-12-11 21:56:59,699 DEBUG    RFM2Pi     85    Values : [0, 0, 0, 0, 0, 0, 0, 0, 0, 0, 0]
2019-12-11 21:56:59,699 DEBUG    RFM2Pi     85 Sent to channel(start)' : ToEmonCMS
2019-12-11 21:56:59,700 DEBUG    RFM2Pi     85 Sent to channel(end)' : ToEmonCMS
2019-12-11 21:56:59,879 DEBUG    MQTT       Publishing: emon/emonpi/power1 0
2019-12-11 21:56:59,882 DEBUG    MQTT       Publishing: emon/emonpi/power2 0
2019-12-11 21:56:59,884 DEBUG    MQTT       Publishing: emon/emonpi/power1pluspower2 0
2019-12-11 21:56:59,886 DEBUG    MQTT       Publishing: emon/emonpi/vrms 0
2019-12-11 21:56:59,888 DEBUG    MQTT       Publishing: emon/emonpi/t1 0
2019-12-11 21:56:59,890 DEBUG    MQTT       Publishing: emon/emonpi/t2 0
2019-12-11 21:56:59,892 DEBUG    MQTT       Publishing: emon/emonpi/t3 0
2019-12-11 21:56:59,895 DEBUG    MQTT       Publishing: emon/emonpi/t4 0
2019-12-11 21:56:59,897 DEBUG    MQTT       Publishing: emon/emonpi/t5 0
2019-12-11 21:56:59,899 DEBUG    MQTT       Publishing: emon/emonpi/t6 0
2019-12-11 21:56:59,901 DEBUG    MQTT       Publishing: emon/emonpi/pulsecount 0
2019-12-11 21:56:59,903 INFO     MQTT       Publishing: emonhub/rx/5/values 0,0,0,0,0,0,0,0,0,0,0
2019-12-11 21:57:02,423 DEBUG    RFM2Pi     Discarding RX frame 'unreliable content'? 25 149 229 94 165 114 216 102 78 123 8 188 203 81 105 10 47 111 111 54 70 (-85)
2019-12-11 21:57:03,338 DEBUG    RFM2Pi     86 NEW FRAME : OK 8 186 9 173 10 98 255 59 9 230 95 200 0 184 11 184 11 184 11 184 11 184 11 1 0 0 0 (-73)
2019-12-11 21:57:03,343 DEBUG    RFM2Pi     86 Timestamp : 1576101423.34
2019-12-11 21:57:03,344 DEBUG    RFM2Pi     86 From Node : 8
2019-12-11 21:57:03,345 DEBUG    RFM2Pi     86    Values : [2490, 2733, -158, 2363, 245.5, 20, 300, 300, 300, 300, 300, 1]
2019-12-11 21:57:03,345 DEBUG    RFM2Pi     86      RSSI : -73
2019-12-11 21:57:03,346 DEBUG    RFM2Pi     86 Sent to channel(start)' : ToEmonCMS
2019-12-11 21:57:03,347 DEBUG    RFM2Pi     86 Sent to channel(end)' : ToEmonCMS
2019-12-11 21:57:03,417 DEBUG    MQTT       Publishing: emon/emontx3/power1 2490
2019-12-11 21:57:03,420 DEBUG    MQTT       Publishing: emon/emontx3/power2 2733
2019-12-11 21:57:03,422 DEBUG    MQTT       Publishing: emon/emontx3/power3 -158
2019-12-11 21:57:03,424 DEBUG    MQTT       Publishing: emon/emontx3/power4 2363
2019-12-11 21:57:03,426 DEBUG    MQTT       Publishing: emon/emontx3/vrms 245.5
2019-12-11 21:57:03,428 DEBUG    MQTT       Publishing: emon/emontx3/temp1 20
2019-12-11 21:57:03,430 DEBUG    MQTT       Publishing: emon/emontx3/temp2 300
2019-12-11 21:57:03,431 DEBUG    MQTT       Publishing: emon/emontx3/temp3 300
2019-12-11 21:57:03,434 DEBUG    MQTT       Publishing: emon/emontx3/temp4 300
2019-12-11 21:57:03,436 DEBUG    MQTT       Publishing: emon/emontx3/temp5 300
2019-12-11 21:57:03,438 DEBUG    MQTT       Publishing: emon/emontx3/temp6 300
2019-12-11 21:57:03,440 DEBUG    MQTT       Publishing: emon/emontx3/pulse 1
2019-12-11 21:57:03,442 DEBUG    MQTT       Publishing: emon/emontx3/rssi -73
2019-12-11 21:57:03,445 INFO     MQTT       Publishing: emonhub/rx/8/values 2490,2733,-158,2363,245.5,20,300,300,300,300,300,1,-73
2019-12-11 21:57:04,861 DEBUG    RFM2Pi     87 NEW FRAME : OK 5 0 0 0 0 0 0 0 0 0 0 0 0 0 0 0 0 0 0 0 0 0 0 0 0 (-0)
2019-12-11 21:57:04,866 DEBUG    RFM2Pi     87 Timestamp : 1576101424.86
2019-12-11 21:57:04,867 DEBUG    RFM2Pi     87 From Node : 5
2019-12-11 21:57:04,868 DEBUG    RFM2Pi     87    Values : [0, 0, 0, 0, 0, 0, 0, 0, 0, 0, 0]
2019-12-11 21:57:04,868 DEBUG    RFM2Pi     87 Sent to channel(start)' : ToEmonCMS
2019-12-11 21:57:04,869 DEBUG    RFM2Pi     87 Sent to channel(end)' : ToEmonCMS
2019-12-11 21:57:05,137 DEBUG    MQTT       Publishing: emon/emonpi/power1 0
2019-12-11 21:57:05,139 DEBUG    MQTT       Publishing: emon/emonpi/power2 0
2019-12-11 21:57:05,141 DEBUG    MQTT       Publishing: emon/emonpi/power1pluspower2 0
2019-12-11 21:57:05,144 DEBUG    MQTT       Publishing: emon/emonpi/vrms 0
2019-12-11 21:57:05,146 DEBUG    MQTT       Publishing: emon/emonpi/t1 0
2019-12-11 21:57:05,148 DEBUG    MQTT       Publishing: emon/emonpi/t2 0
2019-12-11 21:57:05,150 DEBUG    MQTT       Publishing: emon/emonpi/t3 0
2019-12-11 21:57:05,153 DEBUG    MQTT       Publishing: emon/emonpi/t4 0
2019-12-11 21:57:05,155 DEBUG    MQTT       Publishing: emon/emonpi/t5 0
2019-12-11 21:57:05,157 DEBUG    MQTT       Publishing: emon/emonpi/t6 0
2019-12-11 21:57:05,159 DEBUG    MQTT       Publishing: emon/emonpi/pulsecount 0
2019-12-11 21:57:05,161 INFO     MQTT       Publishing: emonhub/rx/5/values 0,0,0,0,0,0,0,0,0,0,0
2019-12-11 21:57:06,050 DEBUG    RFM2Pi     Discarding RX frame 'unreliable content'? 20 95 253 234 255 25 161 160 134 25 150 223 134 20 248 39 254 13 53 189 174 (-86)
2019-12-11 21:57:06,901 DEBUG    RFM2Pi     Discarding RX frame 'unreliable content'? 15 245 221 149 219 175 145 109 149 151 191 230 79 10 195 226 92 126 53 189 174 (-87)
2019-12-11 21:57:07,112 DEBUG    RFM2Pi     Discarding RX frame 'unreliable content'? 0 224 26 149 29 97 236 214 188 78 240 47 240 102 204 223 120 86 90 115 112 (-103)
2019-12-11 21:57:07,851 DEBUG    RFM2Pi     Discarding RX frame 'unreliable content'? 1 68 161 224 204 53 27 79 154 49 99 184 44 39 243 27 36 251 115 9 156 (-85)
2019-12-11 21:57:09,779 DEBUG    RFM2Pi     88 NEW FRAME : OK 5 0 0 0 0 0 0 0 0 0 0 0 0 0 0 0 0 0 0 0 0 0 0 0 0 (-0)
2019-12-11 21:57:09,784 DEBUG    RFM2Pi     88 Timestamp : 1576101429.78
2019-12-11 21:57:09,785 DEBUG    RFM2Pi     88 From Node : 5
2019-12-11 21:57:09,786 DEBUG    RFM2Pi     88    Values : [0, 0, 0, 0, 0, 0, 0, 0, 0, 0, 0]
2019-12-11 21:57:09,786 DEBUG    RFM2Pi     88 Sent to channel(start)' : ToEmonCMS
2019-12-11 21:57:09,787 DEBUG    RFM2Pi     88 Sent to channel(end)' : ToEmonCMS
2019-12-11 21:57:09,897 DEBUG    RFM2Pi     Discarding RX frame 'unreliable content'? 15 198 47 39 108 127 249 154 70 198 35 153 143 9 228 238 217 141 2 117 231 (-86)
2019-12-11 21:57:09,947 DEBUG    MQTT       Publishing: emon/emonpi/power1 0
2019-12-11 21:57:09,950 DEBUG    MQTT       Publishing: emon/emonpi/power2 0
2019-12-11 21:57:09,952 DEBUG    MQTT       Publishing: emon/emonpi/power1pluspower2 0
2019-12-11 21:57:09,954 DEBUG    MQTT       Publishing: emon/emonpi/vrms 0
2019-12-11 21:57:09,957 DEBUG    MQTT       Publishing: emon/emonpi/t1 0
2019-12-11 21:57:09,959 DEBUG    MQTT       Publishing: emon/emonpi/t2 0
2019-12-11 21:57:09,961 DEBUG    MQTT       Publishing: emon/emonpi/t3 0
2019-12-11 21:57:09,963 DEBUG    MQTT       Publishing: emon/emonpi/t4 0
2019-12-11 21:57:09,967 DEBUG    MQTT       Publishing: emon/emonpi/t5 0
2019-12-11 21:57:09,970 DEBUG    MQTT       Publishing: emon/emonpi/t6 0
2019-12-11 21:57:09,973 DEBUG    MQTT       Publishing: emon/emonpi/pulsecount 0
2019-12-11 21:57:09,975 INFO     MQTT       Publishing: emonhub/rx/5/values 0,0,0,0,0,0,0,0,0,0,0
2019-12-11 21:57:10,714 DEBUG    RFM2Pi     Discarding RX frame 'unreliable content'? 11 134 112 171 99 47 234 56 63 178 13 133 241 248 25 32 124 249 6 96 32 (-86)
2019-12-11 21:57:11,025 DEBUG    RFM2Pi     Discarding RX frame 'unreliable content'? 3 143 60 43 118 187 147 164 15 43 167 53 46 3 225 108 26 123 230 230 104 (-87)
2019-12-11 21:57:11,463 DEBUG    RFM2Pi     Discarding RX frame 'unreliable content'? 12 206 182 175 63 80 31 18 56 156 127 142 37 194 223 97 117 117 126 52 25 (-89)
2019-12-11 21:57:13,220 DEBUG    RFM2Pi     89 NEW FRAME : OK 8 191 9 166 10 91 255 41 9 167 95 201 0 184 11 184 11 184 11 184 11 184 11 1 0 0 0 (-74)
2019-12-11 21:57:13,224 DEBUG    RFM2Pi     89 Timestamp : 1576101433.22
2019-12-11 21:57:13,225 DEBUG    RFM2Pi     89 From Node : 8
2019-12-11 21:57:13,226 DEBUG    RFM2Pi     89    Values : [2495, 2726, -165, 2345, 244.87, 20.1, 300, 300, 300, 300, 300, 1]
2019-12-11 21:57:13,227 DEBUG    RFM2Pi     89      RSSI : -74
2019-12-11 21:57:13,228 DEBUG    RFM2Pi     89 Sent to channel(start)' : ToEmonCMS
2019-12-11 21:57:13,229 DEBUG    RFM2Pi     89 Sent to channel(end)' : ToEmonCMS
2019-12-11 21:57:13,312 DEBUG    MQTT       Publishing: emon/emontx3/power1 2495
2019-12-11 21:57:13,315 DEBUG    MQTT       Publishing: emon/emontx3/power2 2726
2019-12-11 21:57:13,317 DEBUG    MQTT       Publishing: emon/emontx3/power3 -165
2019-12-11 21:57:13,319 DEBUG    MQTT       Publishing: emon/emontx3/power4 2345
2019-12-11 21:57:13,321 DEBUG    MQTT       Publishing: emon/emontx3/vrms 244.87
2019-12-11 21:57:13,323 DEBUG    MQTT       Publishing: emon/emontx3/temp1 20.1
2019-12-11 21:57:13,325 DEBUG    MQTT       Publishing: emon/emontx3/temp2 300
2019-12-11 21:57:13,327 DEBUG    MQTT       Publishing: emon/emontx3/temp3 300
2019-12-11 21:57:13,329 DEBUG    MQTT       Publishing: emon/emontx3/temp4 300
2019-12-11 21:57:13,332 DEBUG    MQTT       Publishing: emon/emontx3/temp5 300
2019-12-11 21:57:13,334 DEBUG    MQTT       Publishing: emon/emontx3/temp6 300
2019-12-11 21:57:13,336 DEBUG    MQTT       Publishing: emon/emontx3/pulse 1
2019-12-11 21:57:13,338 DEBUG    MQTT       Publishing: emon/emontx3/rssi -74
2019-12-11 21:57:13,340 INFO     MQTT       Publishing: emonhub/rx/8/values 2495,2726,-165,2345,244.87,20.1,300,300,300,300,300,1,-74
2019-12-11 21:57:13,439 DEBUG    RFM2Pi     Discarding RX frame 'unreliable content'? 19 187 103 227 16 215 11 79 193 177 150 190 74 160 71 83 212 44 95 127 63 (-86)
2019-12-11 21:57:14,821 DEBUG    RFM2Pi     90 NEW FRAME : OK 5 0 0 0 0 0 0 0 0 0 0 0 0 0 0 0 0 0 0 0 0 0 0 0 0 (-0)
2019-12-11 21:57:14,825 DEBUG    RFM2Pi     90 Timestamp : 1576101434.82
2019-12-11 21:57:14,826 DEBUG    RFM2Pi     90 From Node : 5
2019-12-11 21:57:14,827 DEBUG    RFM2Pi     90    Values : [0, 0, 0, 0, 0, 0, 0, 0, 0, 0, 0]
2019-12-11 21:57:14,828 DEBUG    RFM2Pi     90 Sent to channel(start)' : ToEmonCMS
2019-12-11 21:57:14,828 DEBUG    RFM2Pi     90 Sent to channel(end)' : ToEmonCMS
2019-12-11 21:57:15,017 DEBUG    MQTT       Publishing: emon/emonpi/power1 0
2019-12-11 21:57:15,019 DEBUG    MQTT       Publishing: emon/emonpi/power2 0
2019-12-11 21:57:15,021 DEBUG    MQTT       Publishing: emon/emonpi/power1pluspower2 0
2019-12-11 21:57:15,023 DEBUG    MQTT       Publishing: emon/emonpi/vrms 0
2019-12-11 21:57:15,026 DEBUG    MQTT       Publishing: emon/emonpi/t1 0
2019-12-11 21:57:15,027 DEBUG    MQTT       Publishing: emon/emonpi/t2 0
2019-12-11 21:57:15,029 DEBUG    MQTT       Publishing: emon/emonpi/t3 0
2019-12-11 21:57:15,033 DEBUG    MQTT       Publishing: emon/emonpi/t4 0
2019-12-11 21:57:15,036 DEBUG    MQTT       Publishing: emon/emonpi/t5 0
2019-12-11 21:57:15,040 DEBUG    MQTT       Publishing: emon/emonpi/t6 0
2019-12-11 21:57:15,044 DEBUG    MQTT       Publishing: emon/emonpi/pulsecount 0
2019-12-11 21:57:15,047 INFO     MQTT       Publishing: emonhub/rx/5/values 0,0,0,0,0,0,0,0,0,0,0
2019-12-11 21:57:15,053 DEBUG    RFM2Pi     Discarding RX frame 'unreliable content'? 27 176 92 31 191 143 254 61 147 250 97 29 16 136 188 186 127 44 95 127 63 (-85)
2019-12-11 21:57:15,769 DEBUG    RFM2Pi     Discarding RX frame 'unreliable content'? 2 248 113 15 192 62 58 24 55 227 126 58 225 93 80 2 0 140 189 253 138 (-87)