I am using emonSD-30Oct18, Emoncms Version low-write 9.9.8.
For my Energy Data I am using a ADE9K SPI C++ EmonPI using snprintf( postcmd, 1024,"/usr/bin/curl,…etc to http://192.168.1.77/emoncms/input/post...etc)
about every 10 seconds.
For Water, Gas, Sump Pump runs I am using
Trystan Lea Arduino 12 input Pulse Counting Sketch.
The Arduino does a Serial.print about every 10 seconds.
It has been running for about 6 weeks so far.
It runs great, very accurate, but about
every 3 weeks the Emonhub stops updating the
Arduino serial pulses. SPI posting continues to work fine.
Rebooting the Pi from the Emoncms Adminstration resolves the problem.
The only thing I noticed so far is that the Swap → Memory
from the Emoncms Adminstration was at 93.05% before reboot.
I will continue to trouble-shoot, if anyone
had a similiar, I would appreciate any suggestions.
Thanks in Advance.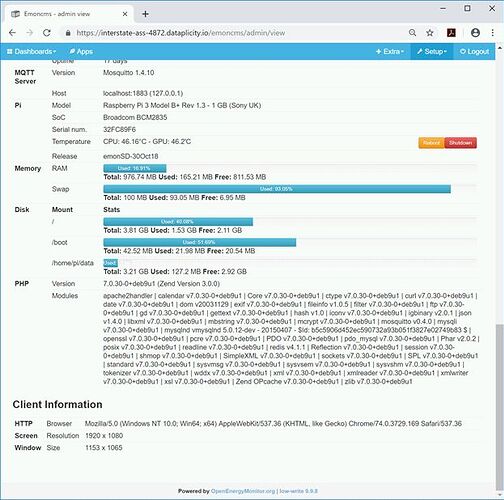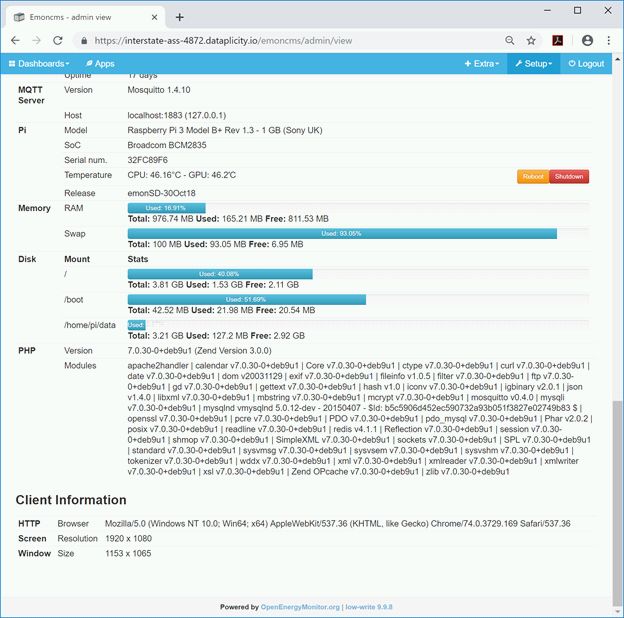 ######################################################################
#######################      emonhub.conf     #########################
#######################################################################
### emonHub configuration file, for info see documentation:
### https://github.com/openenergymonitor/emonhub/blob/emon-pi/conf/emonhub.conf
#######################################################################
#######################    emonHub  settings    #######################
#######################################################################

[hub]
### loglevel must be one of DEBUG, INFO, WARNING, ERROR, and CRITICAL
loglevel = DEBUG
### Uncomment this to also send to syslog
# use_syslog = yes
#######################################################################
#######################       Interfacers       #######################
#######################################################################

[interfacers]
### This interfacer manages the RFM12Pi/RFM69Pi/emonPi module

#[[RFM2Pi]]
    #Type = EmonHubJeeInterfacer
    #[[[init_settings]]]
       #com_port = /dev/ttyAMA0
        #com_baud = 38400                        # 9600 for old RFM12Pi
    #[[[runtimesettings]]]
        #pubchannels = ToEmonCMS,
        #subchannels = ToRFM12,

        #group = 210
        #frequency = 433
        #baseid = 5                         # emonPi / emonBase nodeID
        #calibration = 230V              # (UK/EU: 230V, US: 110V)
        #quiet = true        # Disable quite mode (default enabled) to enable RF packet debugging, show packets which fail crc
        # THIS WAS COMMENTED BEFORE dlp interval =  0      # Interval to transmit time to emonGLCD (seconds)

[[SerialTx3e]]
     Type = EmonHubTx3eInterfacer
      [[[init_settings]]]
           # Un-comment line below if using RS485 adapter
           #com_port = /dev/ttyRS485-0
           # default com port if using USB to UART adapter
           #com_port= /dev/tty/ACM0 1/1/2019 dlp use this id /dev/ttyUSB0 don't work
           #com_port= /dev/ttyUSB0
           #com_port= /dev/ttyS0
           com_port = /dev/ttyAMA0
           com_baud = 115200
      [[[runtimesettings]]]
           pubchannels = ToEmonCMS,
	   nodeoffset = 8
     
[[SPI_ADE9K]]
        Type = EmonHubSocketInterfacer
        [[[init_settings]]]
                port_nb = 50012
        [[[runtimesettings]]]
                timestamped = true
                url = http://localhost/emoncms
                #apikey = 84b1837bffb6d3db93dff4e0887d9a15
                pubchannels = ToEmonCMS,
	       #nodeoffset = 13
                nodeId = 13
   		#baseid = 13
[[MQTT]]

    Type = EmonHubMqttInterfacer
    [[[init_settings]]]
        mqtt_host = 127.0.0.1
        mqtt_port = 1883
        mqtt_user = emonpi
        mqtt_passwd = emonpimqtt2016

    [[[runtimesettings]]]
        pubchannels = ToRFM12,
        subchannels = ToEmonCMS,

        # emonhub/rx/10/values format
        # Use with emoncms Nodes module
        node_format_enable = 1
        node_format_basetopic = emonhub/

        # emon/emontx/power1 format - use with Emoncms MQTT input
        # http://github.com/emoncms/emoncms/blob/master/docs/RaspberryPi/MQTT.md
        nodevar_format_enable = 1
        nodevar_format_basetopic = emon/

[[emoncmsorg]]
    Type = EmonHubEmoncmsHTTPInterfacer
    [[[init_settings]]]
    [[[runtimesettings]]]
        pubchannels = ToRFM12,
        subchannels = ToEmonCMS,
        url = https://emoncms.org
        apikey = xxxxxxxxxxxxxxxxxxxxxxxxxxxxxxxx
        senddata = 1                    # Enable sending data to Emoncms.org
        sendstatus = 1                  # Enable sending WAN IP to Emoncms.org MyIP > https://emoncms.org/myip/list
        sendinterval= 30                # Bulk send interval to Emoncms.org in seconds

#######################################################################
#######################          Nodes          #######################
#######################################################################

[[8]]
    nodename = emontx3
    [[[rx]]]
       #names = power1, power2, power3, power4, vrms, temp1, temp2, temp3, temp4, temp5, temp6, pulse
      names = pulse1, pulse2, pulse3, pulse4, pulse5, pulse6, pulse7, pulse8, pulse9, pulse10, pulse11, pulse12
       ##datacodes = h,h,h,h,h,h,h,h,h,h,h,L
      ## datacodes = h,h,h,h,h,h,h,h,h,h,h,h
       datacode = 0
       #scales = 1,1,1,1,0.01,0.1,0.1, 0.1,0.1,0.1,0.1,1
       scales = 1,1,1,1,1,1,1,1,1,1,1,1
       #units =W,W,W,W,V,C,C,C,C,C,C,p
       units =p,p,p,p,p,p,p,p,p,p,p,p


[[13]]
    nodename = ADE9K
    [[[rx]]]
       names = L1V, L1A, L1W, L1VA, L1pf, L2V, L2A, L2W, L2VA, L2pf, L12W
       scales = 1,1,1,1,1,1,1,1,1,1,1
       units =V,A,W,VA,pf,V,A,W,VA,pf,W