With energy prices increasing @glyn.hudson and I have been looking again at battery storage (and in my case solar as well) for our respective house projects. Glyn has a Givenergy battery on order that will connect to his existing solar system + off peak Octopus GO charging. Im yet to make an order but looking through the options and trying to work out if it makes sense - even if we are not going to be in our current house for the number of years that payback may require…
A while ago I made a solar and battery simulator that used the post processing module and also did some seperate simulation's here GitHub - TrystanLea/solarmodel: Home Solar PV self consumption model but these are all quite difficult to use with existing data in emoncms.
So I thought building off the experience of building the emoncms profiles app that processes an entire year at 15 mins resolution in about a second (depending on internet connection speed more than server or client processing speed), Id have a go at making an emoncms app that simulates a solar and battery system based on existing consumption data and either existing solar data or solar data from a public emoncms.org feed.
Here's the result: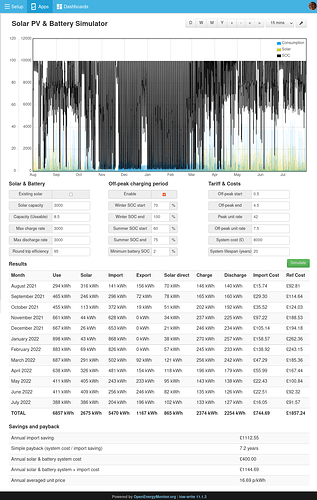 Simulation parameters:
Solar PV capacity and option to specify if the solar is an existing install or new to adjust the savings calculation accordingly.
Battery capacity, max charge and discharge rates and round trip efficiency settings.
Off-peak charging settings, with different winter and summer time target state of charge (could be improved with day ahead solar forecasting algorithm)
Off-peak tariff timing and costs
System install costs and lifespan
It would be good to get some better figures on system costs for different solar and battery configurations, I have an idea of the equipment cost of the system Im looking at from midsummer wholesale but not sure yet of the total install cost.
The payback times of battery storage seem to be hugely influenced by off-peak tariff options such as Octopus GO, if you are lucky to be on such a tariff and assuming these tariffs are here to stay.
The simulator cant simulate changed consumption patterns due to having solar and a battery installed, e.g moving more EV charging and heat pump consumption to the day time. So it may not capture all of the potential savings.
Id be interested to hear what those with more experience of living with solar and battery storage think. Are ballpark payback times in the 7-10 year range based on current prices and assuming octopus GO about right?
The above app is available on emoncms.org or in the emoncms core and app's module latest master branches for anyone keen to test.