As mentioned previously in the OpenEnergyMonitor goals post we are working towards adding a pay-per-feed model to emoncms.org to fund server costs, maintanence and development.
Billing section on Account page
We have now added a Billing section to the user accounts page of emoncms.org, which gives projected costs and a graph of account balance: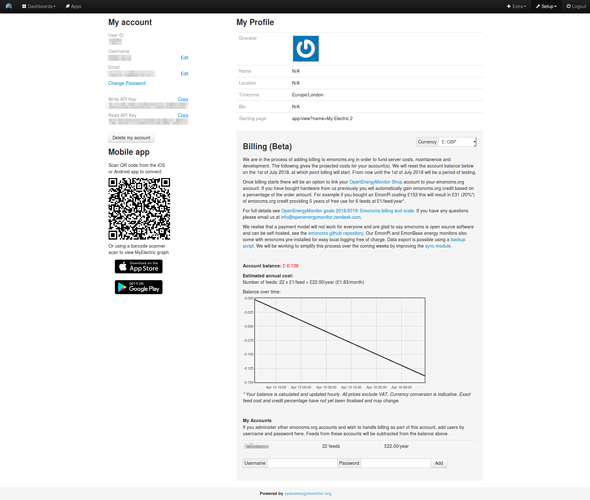 Multiple accounts
If you administer other emoncms.org accounts and wish to handle billing as part of a single account, you can add users by username and password to a chosen account. Feeds from added accounts will be subtracted from the balance of your chosen admin account.
Billing starts 1st of July 2018
To give plenty of warning and to give us time to complete the OpenEnergyMonitor Shop integration we are aiming for a start date of 1st of July 2018. Any account balances accumulated between now and then will be reset on the 1st of July 2018. Once billing starts there will be an option to link your OpenEnergyMonitor Shop account to your emoncms.org account. If you have bought hardware from us previously you will automatically gain emoncms.org credit based on a percentage of the order amount as mentioned above.
Data Export
Data export is possible using the backup script available here http://github.com/emoncms/usefulscripts. We will be working to simplify this process over the coming weeks by improving the sync module http://github.com/emoncms/sync
If you have any questions, feel free to post below or email us at [email protected]
Thanks a lot
Trystan