Bit of a weird one. Have had 21Jul21 running for a while now following a clean install on a new SD card.
As always with my emonPi, I install Dataplicty and use the wormhole feature to view my solar app and manage the pi remotely. Has always worked fine across multiple builds but for whatever reason (maybe a power outage but really not sure) the remote session now throws up errors accessing the app page and will not load. Clicking OK to error just results in spinning wheel.
Note: accessing my emonPi from the IP/local web interface has absolutely zero issues.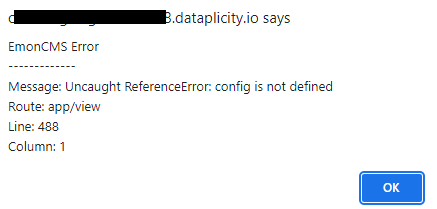 I also get errors accessing the Inputs page advising "Device already in use" but other pages seem to have no issues including Admin, Emonhub, etc. I would love to post a screenshot of the Inputs error popup, however it seems accessing the Inputs page from the remote session starts creating new and random inputs.
This ended up breaking my setup and I had to recreate the device/feeds/inputs, and I also reinstalled Dataplictiy, checked for updates, rebooted, etc. but still the same errors.
Accessing my pi page from the IP/locally has absolutely zero issues. Has me a bit stumped.
Any ideas?