I've just posted a blog about our work on a local to us community energy project called CydYnni – EnergyLocal. The project is at the forefront of making it possible for households to source their electricity directly from local, community-owned renewable sources. It's been great being involved in such a pioneering project ran only 5 miles up the road from the OpenEnergyMonitor office.
The full blog post can be read here:
https://blog.openenergymonitor.org/2017/08/cydynni-energylocal
Our role in the project so far has been to develop a web app energy dashboard so that households can see when there is local hydro power available and how it compares to aggregated community demand.
The main app: http://cydynni.org.uk
Historic data view: http://dev.cydynni.org.uk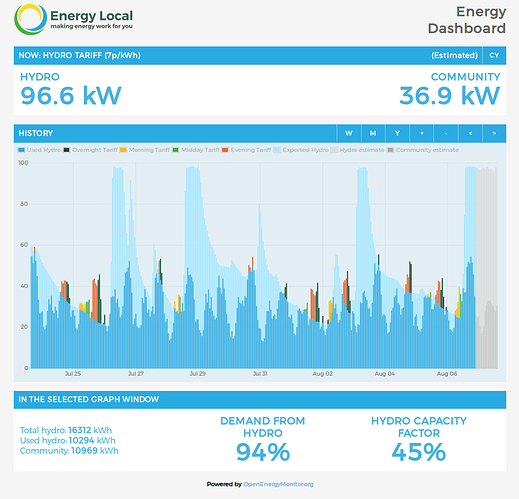 The next stage involves an adapted emonbase base-station. The development for which has driven some of our most recent improvements to the EmonPi/EmonBase, such as the recently launched WIFI Hotspot setup and ongoing development on the emoncms device module, which alongside auto-configuration of inputs and feeds provides the option to define control devices starting with the Sonoff S20 WIFI Socket, Martin's WIFI Relay unit and the OpenEVSE charging station.
More to come on this soon!