Hi,
This is really just a "thank you" for EmonCMS being useful when I'm trying to do things.
My friend and I were discussing my car, it's battery and my new bluetooth multimeter and they asked me to see if the battery voltage varied as the outdoor temperature varied. Notably we were pondering if the voltage drop would make it harder to start the car (it's one of those frugal diesel things).
During this analysis the car was just sat still on the drive. I believe it has an alarm fitted. Times are in UTC and I'm in England.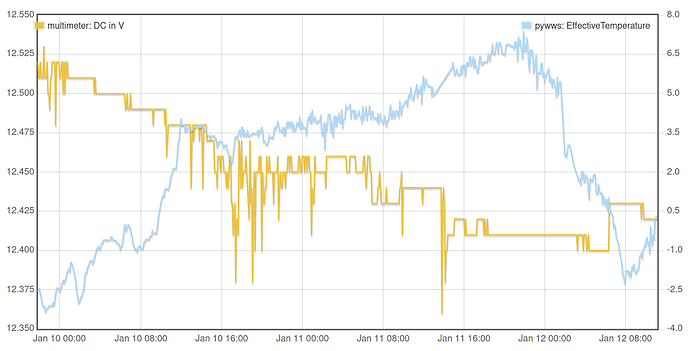 As you can see, the temperature went up during the first 48 hours and the voltage kept dropping. As the temperature fell during the night on 2021-01-12 the voltage stopped falling and actually rose a little bit.
I'm sure you are all much more familiar with battery chemistry and performance than I am, but I was just coming here to show how useful and flexible EmonCMS is for all sorts of random questions.
Thank you.