LS,
In Januari 2019 I bought an emonTXv3, with the 'ESP8266 WiFi Adapter for EmonTx ' also called emonESP. Since the initial problem I had that time, this has worked perfectly.
But now i have a broken sd-card tn the Raspberry Pi3 which i use for emonCMS.
So, i took a new sd-card and installed emoCMS (latest version: low-write 11.3.22 on it and tried to get everything working again. Since I hardly touched the system in the last 4 years, I feel like I have to learn this al over again…
OK, eemonCMS is running and with the use of the Read and Write key, I got the communication between the emonTX/ESP8266 working again.
My problem is, I am not able to correctly set-up the Feeds. I tried to follow the Tutorial 'EmonPi Solar PV Setup | Emoncms V10' (https://youtu.be/Nc6YSWqqxkA?si=a-HmoHvs9e0U7VR9) from I beleave @ TrystanLea, but it does not work like that on my ststem.
I followed the Video where at 2.05 min. you selected: 'EmonPi, Solar PV Type 2'. In my case I selected 'EmonTX Solar PV Type 2', because i have an emonTX3…
This is my input page: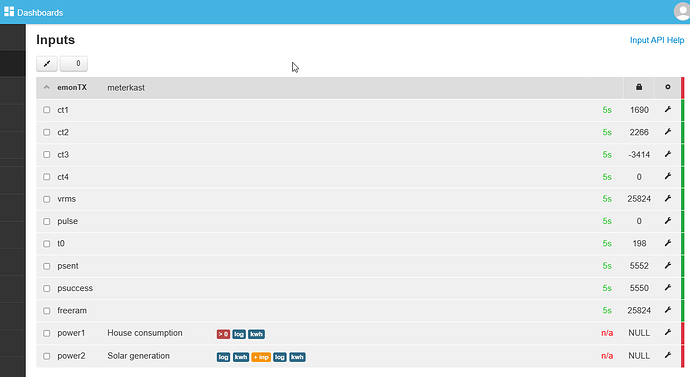 Where
ct1
= Grid,
ct2
= Solar and
ct3
= Charching connection to the EV.
And the Feeds look like this: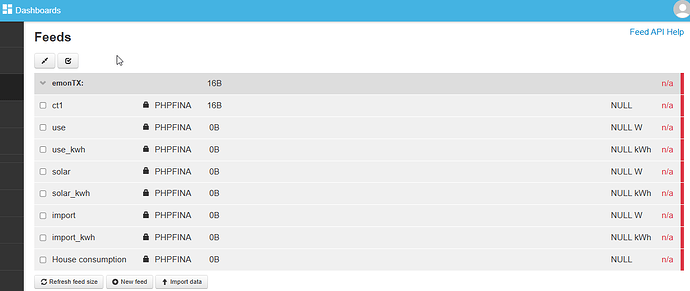 But the result is what you see in the pictures above: I get added: power1 and power2, which does nothing… BTW, I tried also to use the 'EmonPi, Solar PV Type 2' but that did not help also.
Please can anyone help me or explaint to me what I do wrong, or what is different between version 10 (used in the video) and the current version of emonCMS.
Looking forward to your anser and/or sugessions
Kind regards. Bert