Hopefully, someone can help me. I am a complete newbie and have just bought an Emonpi Solar pv kit from openenergymonitor.org here in the UK and am having problems setting up EmonCMS. Hardware has been installed and appears to be working and is connected to my router using a TP-Link powerline ethernet connection and the screen on the Emonpi shows – YES.
I have pinged the emonpi from my computer and the connection appears to be OK: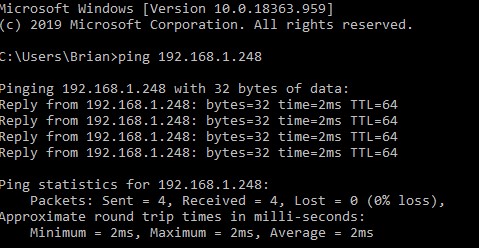 I started the connection process by clicking on http://192.168.1.248 and this took me to the emoncms log-in screen. After logging in, there was no Emoncms setup wizard as described in the guide but I was taken into the setup for Emoncms and from here on I am totally lost; there are no readings from my Solar pv system or household consumption and the info on the screens is different to that shown in the guide. I did try changing things, but I think I have totally b******d up the setup process.
Here are the Inputs and Feeds screens:
I think the data is being captured by Emoncms as I can see Emonhub updating:

I did think about doing a factory reset on the emonpi and starting the process again but was worried about losing the key scripts etc.
At this stage all I want to do is get a basic setup working as shown in the setup guide. Is there anyone who can please help me get it working?
Thanks in advance
Brian