After a bit of a problem with inputs via MQTT (I added 60 new input and FeedWriter went weird) I ended up rebooting my EmonPi, which hasn't happened in years. I think from the Admin/Update Log there has been an update during the restart (or it's possible I clicked Full Update by accident?), either way my install had been brought up to date, which is probably about time!
HOWEVER, I now have issues with the menus. Firstly Apps/Dashboards/DemandShaper have disappeared from the horizontal menu. And Graphs/Emonhub/Post Process/Sync/Backup/Wifi from the vertical menu have gone.

The dashboards are still there if I use a bookmark, but the Graphs bookmarks and clicking a feed to get to its graph give an error -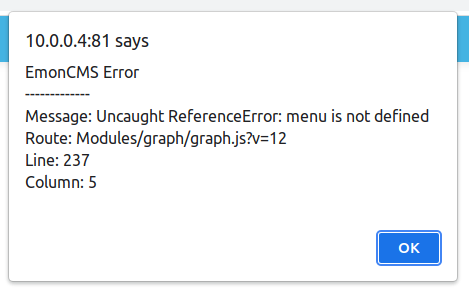 I've googled and cleared the browser cache - no change, and run the updates again - no more updates needed. So now I'm a bit stuck. Any ideas?
Lee