Hi everyone.
I'm trying to build a simple power monitor based on Arduino Nano v3 (cheap chinese clone) and a custom circuit with 230 to 9V transformer on the voltage side and Talema AC1025 CT on the current side.
The difficulty is that when I power up my system from USB port of my PC it's working almost OK. Almost means that without any load the current is not equal to zero (0.01 to 0.05A). So I decided to power up the system with a 12V 2A power supply. I connected VIN and GND inputs of my Nano to the supply and 5V and second GND pins to the measuring circuit. Now Arduino board is still working great. BUT! The current is ALWAYS equal to zero! Regardless to the load. And the voltage is fine (217.0 to 223.5V as usual in my city

).
I measured the output voltage on the current circuit when powered from USB andthe load is present, the voltage floats proportionally above the 2.5V according to load power (and the current). When the system is powered autonomously it always stays at 2.5V. Without any changes.
About my current transformer. It's a Talema AC1025, the 25A max transformer. According to manufacturer's recommendations the burden resistor is 100 ohms.
The schematic: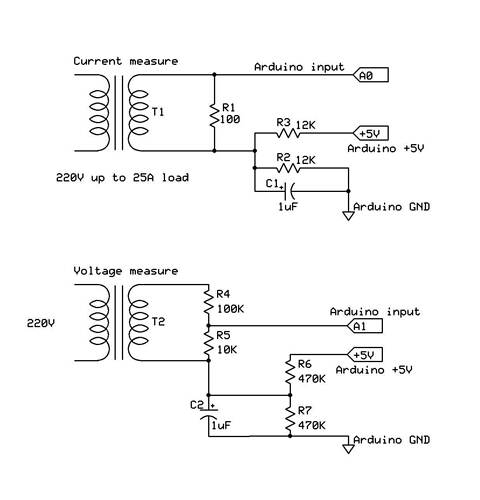 Why the current is not being measured with external power supply? Any help is appreciated. Thanks in advance.