Hi all,
For the past few months i've been monitoring my household electrical usage via a Current Cost Envir CT clamp system connected to a Raspberry Pi running measureit (lalelunet / measureit · GitLab) and squirting the result up to PVoutput. The clamp was hooked close to my meter like this. So one of those old things the energy companies handed out years ago. But this one has rj45 and a serial connection, hence the connection to the Pi.
I'm in the UK by the way.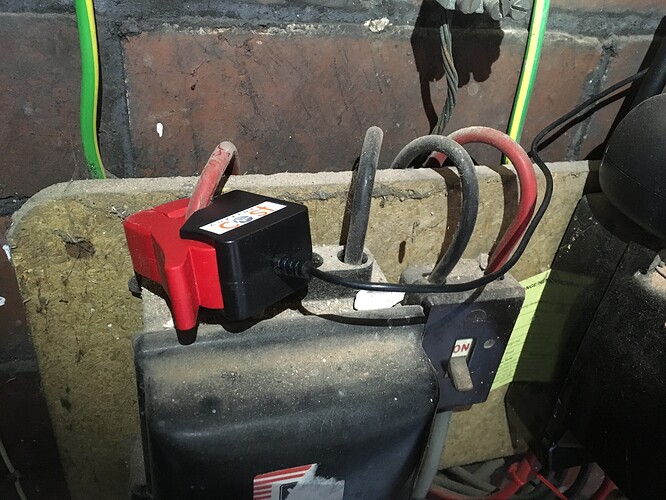 Here's a pre PV install day… I think it was pretty accurate or at least in the ballpark for the most part.
https://pvoutput.org/intraday.jsp?id=66193&sid=58867&dt=20180814
But last week I had PV installed and since then the clamp readings have all gone to-cock. Its like the PV generation figures are interfering with the consumption figures. But worse than that, I don't think it can be as simple as total - generation = consumption or anything like that. The maths never work out.
Even when out of the house and knowing the house is only using 250w, the consumption clamp still shows crazy high readings that flow in line with solar generation totals. I know my PV generation is right as that is coming from the Solar Edge API. I do have a clamp on the PV wire, but currently not using it to send to PVO. I've checked it though at that seems accurate under load… no sure accurate when not generating though as it shows 200w!!!
Here's today.
https://pvoutput.org/intraday.jsp?id=66193&sid=58867&dt=20181006
All I want to do is monitor actual household consumption. How hard can it be?

So this leads me to believe that the CT clamps i'm using are no good for when there is both in and out down the same wires/circuits. I'm no electrician so please forgive any ignorance. The way I that PV has been installed is that its come into a spare spur/breaker on the main consumer unit, so in essence the consumer unit and my system is now flooded with electricity from both directions; in (from PV) and out (from home usage) and the CT clamps have no idea what's going on.
So if my Current Cost clamps are no good, will ones attached to an Emon solution be better? Could I monitor household consumption easily? And ideally without needing to get a sparky involved and £££ that could bring. The 'learn' section talks about adding PSU to the Clamps to give reference to the monitoring.
If an Emon based solution will work then what's the cheapest and simplest way of doing it?
I have a spare Raspberry Pi knocking about if that can help? But i'm no soldering whizz, so things would have to be straightforward. Would I need 3 clamps/PSU and one Emon base unit?
Or if I wanted to monitor consumption and PV generation, would I need 6 clamps/PSU? I'm afraid i'm a bit confused by it all, sorry.

Obviously, if there is a way to get the CurrentCost / measureit / Pi solution to squirt the correct figures to PVoutput that would be my preference as I already have the hardware etc and money has been invested.
Any help or pointers would be very much appreciated. If you need more info or photos etc please ask.
Thank you.