I have had my OEM system (consisting of an EmonPi two EmonTx V3's and several EmonTh V2's) for about a month and a half. System is performing well and I am getting to grips with open source electrical and environmental sensor monitoring. All the various nodes are are registering in the inputs of local EmonCMS; even have SMA inverter monitoring and BMW connect drive monitoring via EmonHub to create specific nodes, all have many feeds logging on these various inputs. Nevertheless, over this period of time I have noticed that a node would drop out or that EmonCMS created a new node 5, 7 or 8 etc. with updated time of several hours or NA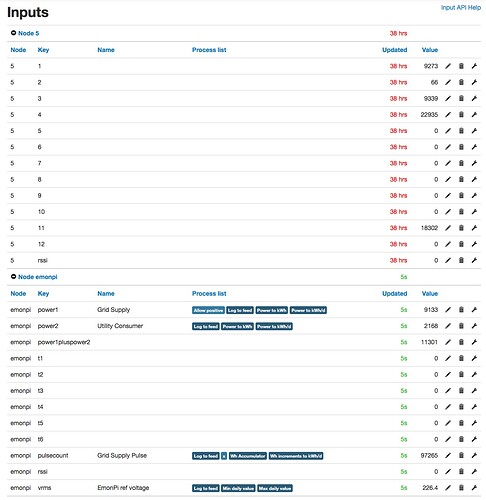 I have not taken much notice of this (until last night) and have put it down to my inexperience and I have made an error with something; I have usually just deleted these spurious node inputs and every thing is fine. Last night while switching on my television and all the other devices to watch and hear programmes and different forms of media I notice that one device the audio SPDIF switch did not respond using the universal remote (Logitech Harmony Ultimate) and had to be individually switched on. I did not think much of it at the time but later when I was looking at the EmonCMS I noticed that one of the EmonTx's had not been received, coincidently for the period of time I had these devices on. I presumed interference with my 433MHz spectrum and was therefore, wondering whether it would be possible to change the frequency of the system to 868 MHz in the firmware etc.
As the OEM system is new it is using the RFM69CW 433 MHz and have looked this up on this forum related to interference etc. but found that there are problems with the 868 MHz frequency and 4G. Not to mention more expense changing the RFM69CW modules and antenna (with potential interference form 4G) and changing the audio/visual equipment is prohibitively expense also.
Can anybody experienced in signal Tx/Rx offer a 'cheaper' solution/s?