I'm monitoring a largish (30kWp) 3 phase PV installation with emonTx/Rpi's running emonSD image Oct 2018. The emonTx at the incoming grid supply meter is running the v1.2 12 Mar 2018 firmware and I have made an attempt at calibrating it using an old electric kettle.
The grid supply meter is bog standard (not smart) and only records net total import across the 3 phases – eg: phase 1 importing 10kWh with Phases 2 & 3 each exporting 3kwh is recorded by the meter as a 4kWh chargeable import.
After several tests, I've established that the emonTx Pulse Count is precisely in sync with the meter reading – so Pulse Count is 'revenue grade' info as far as I'm concerned.
I've noticed that CHARGEABLE Import (total net import) as calculated from the 3 CT's does not match the CHARGEABLE Import as recorded by the Pulse Count at the grid meter.
This is shown in the screen shot …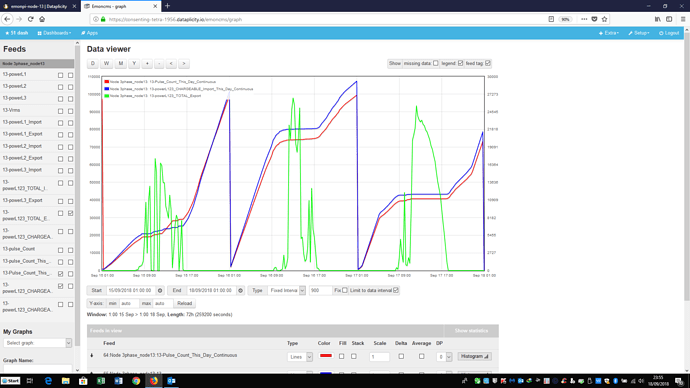 The red line shows chargeable import per the Pulse Count. The blue line is the chargeable import as recorded by the 3 CT's. (And I accept that the difference is explained by calibration errors, component tolerances and the need to do 3 phase power calculations based on phase 1 voltage info only.)
As an observation, the greatest discrepancy occurs around the middle of the day when export (because of generation) occurs – the green line. But there is no obvious correlation between the amount of export and the size of the discrepancy.
However, with some fiddly Input Processing, throughout the day I calculate an IMPORT ADJUSTMENT FACTOR between Pulse Count and chargeable import as recorded by the 3 CT's.
But what about export as recorded by the 3 CT's? My pragmatic thinking is to apply this IMPORT ADJUSTMENT FACTOR also to export as recorded by the 3 CT's. And I'm really only interested in daily totals rather than the minute by minute situation throughout the day.
Whilst calibration errors and component tolerances both affect import and export, I appreciate that phase voltage assumptions, power factor, etc may be quite different during export/generation.
Any comments or better/more pragmatic suggestions would be most welcome – thx.