Hi there,
I just purchased one of the EmonTXv4 Wifi units from the Open Energy Monitor Shop.
The following shows the current installation configuration (Neutral & Fusing omitted for clarity), where Phase 1 is the only phase with import/export, the rest are import only. The EmonVS is also connected to Phase 1.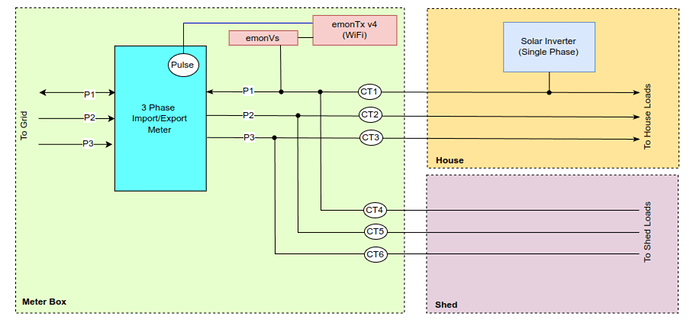 Tonight, after finally getting WiFi working on the device, I have discovered that many of the phases are reporting negative values (where no export is actually possible), and after (re)checking clamp orientation etc, with some searching I now assume that the issue is related to the following article: EmonTx4 3-phase support with emonLibDB - #11
Rather than hijack that topic, I just want to confirm understanding of the steps required to make this configuration work with 3 phase:
I need to re-sequence the CT's (working downwards in my diagram) to be 1,3,5,2,4,6
I need to update the firmware to variant in the above quoted link
Which leaves 2 residual questions:
How do I upgrade/configure the firmware to the 3 phase version in the EmonTXv4 WiFi variant
I trust that the updated version will still correctly recognise import/export on the phase where the EmonVS is attached?
As an aside, it has taken quite a while to get the WiFi working, and I have discovered that the WiFi range of the unit is extremely limited (Yes it is installed in a Galv meter box, but every other device I tried in there got quite a reasonable signal and stable connection). Anyway, had to get another WiFI AP, and install it in the immediate vicinity of the Meter Box, and I now seem to have overcome that hurdle!!
Cheers - Glen