The higher dT that I get is actually a problem for me, because it makes the return temp rise higher than I want it to, because the radiators can't emit the heat fast enough. I can only get steady state at higher flow temps. This is why I was experimenting with higher pump speed, hoping that I could then run cooler, but I had complaints about the increased noise.
The Experiment: while the heat pump was in a steady state, I changed the pump speed to see what would change. Chart below shows averaged data over 5 minute periods, for electric consumption (blue), heat produced (yellow), COP (red) and dT (green).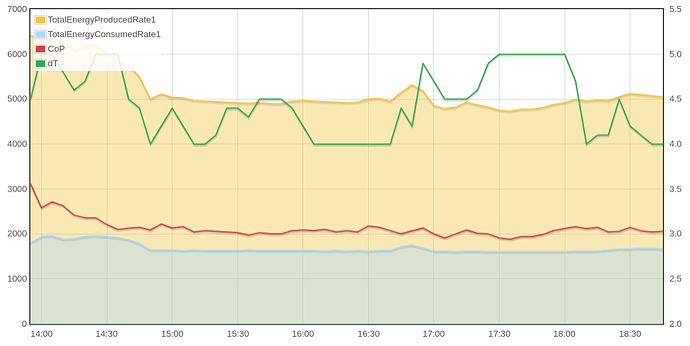 Most of the afternoon was running at 16 l/min until about 16:30, with a dT between 4 and 4.5.
Between 17:00 and 18:00 I dropped the speed down to 14 l/min (how I usually run), and the dT increased to 5. There's a slight dip in heat output and COP, with the input barely changed at all.
At 18:00 the speed was increased back to 16 l/min, and dT reverted to it's previous level. Return temp (not shown) was a steady 35.5 throughout. I could perhaps done with leaving it running at the slow speed for a bit longer, as heat output looked to have maybe recovered towards then end of that hour.
(should probably have started a new post for this, but it's already spread over 3 discussions)
I'd say this highlights that there are many factors affecting the performance of the whole heating system, not just temps and speeds a heat pump.