Hi @JustPlaying
This evening I thought I'd write you a program to solve the temperature monitoring problem you have!
The code is here. https://github.com/stuartpittaway/ESP8266-DS18B20-EMONCMS
It uses the ESP-8266-12E (NODE MCU 1.0) with the Arduino firmware on it - these chips are about $3USD each!
Once you write my program to the chip and power it up from USB, it will create a new WIFI access point named "ESP8266_TEMP_MON". Connect to this WIFI from your phone or PC and browse to http://192.168.4.1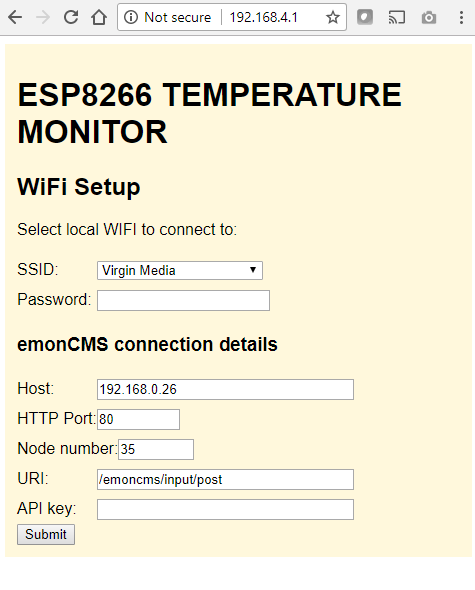 Now simply select the WIFI access point you want this device to connect to in the future and its password.
You will also need to configure the emonCMS server to connect with (it won't work with HTTPS) and enter your read+write API key.
Click submit to save the values and then when prompted, press RESET on the ESP chip.
After reboot it will then automatically connect to your WIFI as a client, scan for up to 20 temperature sensors and then transmit the readings every 30 seconds to emonCMS.
When it uploads, it posts the values into the node specified in the configuration page and labels each reading with the sensors serial number, like this…
You can edit the labels to add on a name if you want to.
The code is a bit rough and ready, but give it a go and see what you think!