This would mean all the data goes to that broker and none to the emonCMS it normally goes to.
emonCMS does not run on an ESP8266.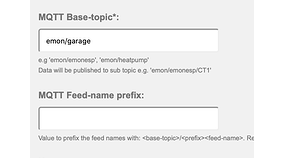 I'm not familiar with how this is setup - The instructions are a little ambiguous
I suggest first box should be emon, second garage`.
In NR, to test, subscribe to emon/garage/# and I expect you will get a number of sub topics.