I have been researching how to utilize Open Energy Monitor technologies as the foundation for energy monitoring for our property in Minnesota, USA. We have an average size house and large shop, each with 200A, split phase 240V service fed from a single meter. In addition, we have a large solar plant that will feed both buildings. The following is a high level diagram of the existing electrical infrastucture: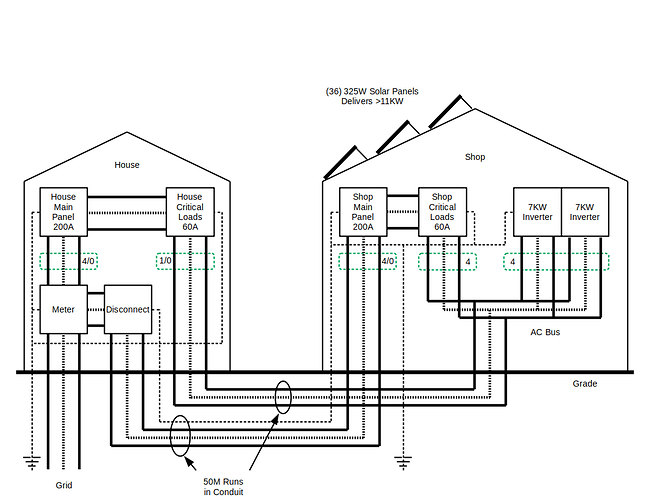 The "GREEN" boxes in the above diagram indicate what I think should be the AC monitoring points of the system, and the cable sizes at those points. The physical distance and the metal shop building rule out wireless communication between the clusters of equipment in the two buildings. We have a robust Ethernet network between and throughout both buildings and an equipment closet in the house where all of the networking converges, and contains servers and NAS for my business.
I have received two emonTX Arduino shields that will be combined with an Ethernet shield or Ethernet Arduino to set up Voltage and Current monitoring at the two 200A main panels. An Ubuntu virtual machine will be set up for emonCMS and integrated with an existing OpenHAB installation for home automation. The communication will initially be Ethernet between all the data acquisition equipment and emonCMS. Once the initial monitoring for the two main panels is worked out, I will expand to cover the other "GREEN" monitoring points.
I will also attempt to collect and integrate Modbus data from our Schneider inverters and charge controllers to integrate Solar Plant monitoring into this system (See Connectivity to Schneider XW+ and XANBUS).
I have found several articles on the OEM forum about utilizing Ethernet/emonTX, Ubuntu emonCMS installation and North American sized CT's. I will be piecing together the hardware in the next couple weeks, and hope to have a functioning OEM environment by the end of the month. I would appreciate and feedback or suggestions.