Hi,
I was making changes to a virtual feed, which obviously wasn't a good change as it caused my browser window to stop updating.
Via another tab I had the solar with divert app running, this had also stopped updating.
When trying to navigate to any part of the site it did nothing for over 5mins.
I resorted to powering off and on my emonHub. I have since shutdown and restarted emonhub again and when looking at the Inputs page it shows process list as "Wait…"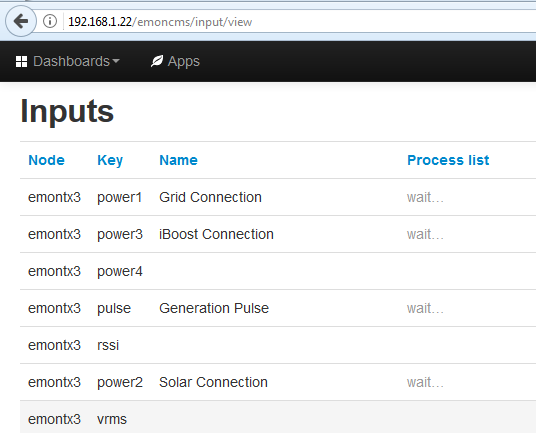 When accessing the feeds page it never loads
Whilst logged on and running "top" any change of web page sends an "apache2" to start using 90%+ of a core:
[email protected](ro):data$ ps -flp 10618
F S UID PID PPID C PRI NI ADDR SZ WCHAN STIME TTY TIME CMD
5 R www-data 10618 1524 13 80 0 - 88881 - 14:32 ? 00:00:34 /usr/sbin/apache2 -k start
I'm guessing that the config surrounding the processes and feeds is in someway knackered, which is creating these problems.
How can I determine what it believes are active processes and feeds? Is there a config file that it is stored in?
Any help and guidance is greatly appreciated.
Thanks in advance,
Clive.