I've been looking at alternative weather forecasting API's now that DarkSky are closing theirs and came across climacell: https://www.climacell.co
Their free tier is very generous and there are a large number of weather fields that can be requested including: 'Solar radiation reaching the surface' which looks like it could be really useful for solar forecasting.
The API builder provides clear examples of how to build requests using different programming languages.
Im only just trying this out so I dont have any experience on the accuracy of the forecasts but thought I'd share as it looks great!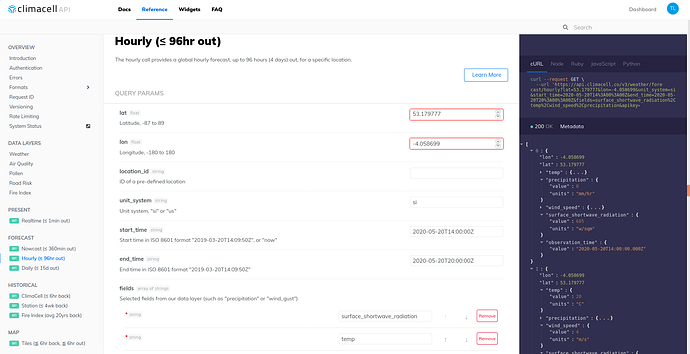 Python example
import requests

url = "https://api.climacell.co/v3/weather/forecast/hourly"

querystring = {"lat":"53.179777","lon":"-4.058699","unit_system":"si","start_time":"2020-05-20T14:00:00Z","end_time":"2020-05-20T20:00:00Z","fields":"surface_shortwave_radiation,temp,wind_speed,precipitation","apikey":""}

response = requests.request("GET", url, params=querystring)

print(response.text)