I'm finally getting around to look at the logging of my directly connected pulse sensor and the serial connected emonTX with CM firmware. I'm wondering if I have set the processing up correctly, I seem to have but have a nagging doubt. The Guide page is not that clear I found. + Add Optical Pulse Sensor - Guide | OpenEnergyMonitor
My meter pulse 1000 pulses per kWh - 1 pulse per Wh. It seems reasonable then to use the WhAccumulator first then multiply the figure by .001 before using the kWhAccumulator.
What I am unclear about is whether, on the processing front, the output from the WhAccumulator can just be used or if the Input needs to be reset back to original before the multiplication.
The info, implies it is a modified Input that is output from the process but I have tried the logging with a reset and without and the end result seems to be the same.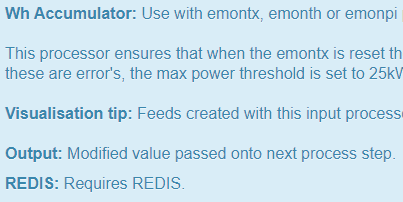 Same is true for the Energy reading from the CM Firmware (example below I am resetting it). I wonder if there might be a rounding error introduced by one or other method. @TrystanLea (or anyone) could you clarify what the right set of processes are please?