Hi Folks, I've had an EmonPi for years, but things have recently gone wrong and I'm struggling to get it up and running again properly.
I've got a Solar array and the Pi setup in "Type 2". I've got the Pi logging to a remote EmonCMS install of my own (not .org). This has worked fine over the last few years. Unfortunately I had a power cut last month which knackered my EmonCMS install, and I had to recover from backup, which all appeared fine.
But now, I've noticed that my Solar readings are being sum'd to my Grid usage. So when the sun is out, it looks like I'm using more power than I am, in fact, exactly the amount of solar I'm generating more: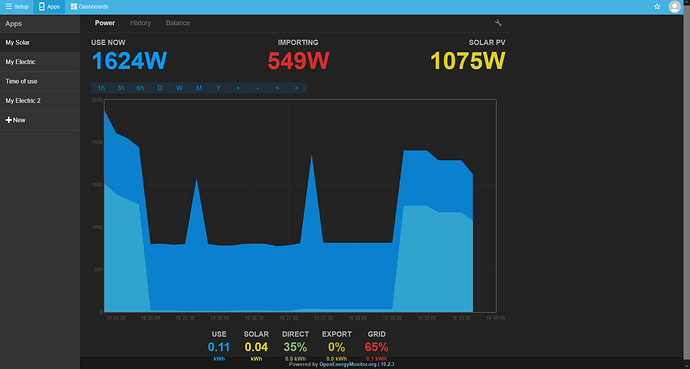 I disconnected my solar and you can see my solar drop off to 20W (which is also odd in itself, as it never used to do this), and correspondingly my power usage drops by the same amount. When I reconnect the array, everything jumps up by the same amount.
Now maths, really, really isn't my strong point, and I get confused with even basic arithmetic, so please bear with me. I've got CT1 recording what's going in and out (positive is import, negative is export). And CT2 what the solar is producing. The instructions say that you add the "Power 1" input to the "Power 2" input to produce the "use" feed.
I'm really at a loss as to what is going on here, as I should expect to see my use remain static, just my import going up when the solar goes down. With the value on CT1 reducing when solar is active.