I am in the process of changing my system from having my 3 emonTx/ESP8266's & an emonPi sending data directly to emonCMS.org to having my 3 emonTx/ESP8266's sending data via MQTT to my emonPi and me then using emonpi.local instead of emoncms.org for recording the Feeds etc.
During the setup process I seem to have lost the ability to log / record psent & psuccess data; is this data not relevant when using MQTT to send data to a local emonPi? If so, how does one keep a check on communication "up times" etc?
I am having a problem with MIN / MAX values on a couple of MQTT Feeds; I'd like to keep track of a daily max production rate for my PV panels - but the third of these three processes produces a Feed error. Any ideas as to what I am doing wrong?
.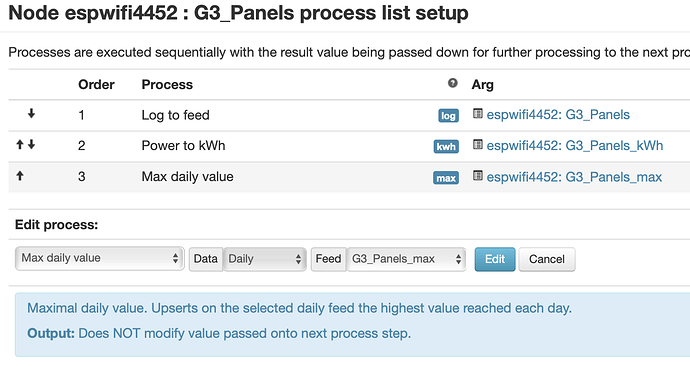 I am also having similar issues with sending temperature Max/Min daily values - both from the TX's via MQTT and within the emonPi itself.
Any suggestions?
TIA