I'm running a brand new emonTX and emonBase (base home built from Pi3B+ + purchased reciever board) and set it up according to these instructions yesterday. The base is connected to router via ethernet and is approximately 6meters away from the TX.
Power readings are coming through if I watch in a dashboard using live feed chart, along with temperature + others, however when I go to check the setup > data viewer graphs I'm seeing periodic gaps in the power data. When overlaying temperature readings which are coming from the same TX unit, there are no data gaps. See the screenshot beneath, power in yellow, temperature in blue. Blue circle highlights where I reset the pi.
Does anyone know what's going wrong?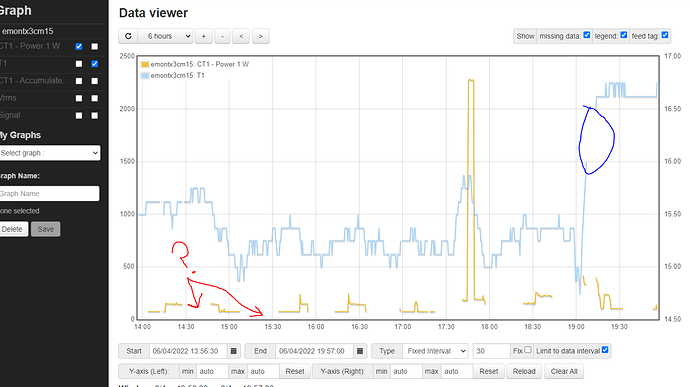 Also beneath is a comparison of a livefeed chart in the dashboard vs rawdata chart. Rawdata chart seems to be missing data, live feed contains the data.
I've taken a look at the logs during the gaps and can see readings, but can't interpret if the logs are telling me that there is something wrong.
2022-04-06 20:07:51,561 INFO MQTT Publishing 'node' formatted msg
2022-04-06 20:08:01,540 INFO MQTT Publishing 'node' formatted msg
2022-04-06 20:08:11,424 INFO MQTT Publishing 'node' formatted msg
2022-04-06 20:08:21,365 INFO MQTT Publishing 'node' formatted msg
2022-04-06 20:08:31,230 INFO MQTT Publishing 'node' formatted msg
2022-04-06 20:08:41,198 INFO MQTT Publishing 'node' formatted msg
2022-04-06 20:08:51,183 INFO MQTT Publishing 'node' formatted msg
2022-04-06 20:09:01,167 INFO MQTT Publishing 'node' formatted msg
2022-04-06 20:09:11,150 INFO MQTT Publishing 'node' formatted msg
2022-04-06 20:09:21,026 INFO MQTT Publishing 'node' formatted msg
2022-04-06 20:09:31,032 INFO MQTT Publishing 'node' formatted msg
2022-04-06 20:09:41,000 INFO MQTT Publishing 'node' formatted msg
2022-04-06 20:09:50,981 INFO MQTT Publishing 'node' formatted msg
2022-04-06 20:10:00,957 INFO MQTT Publishing 'node' formatted msg
2022-04-06 20:10:10,835 INFO MQTT Publishing 'node' formatted msg
2022-04-06 20:10:20,813 INFO MQTT Publishing 'node' formatted msg
2022-04-06 20:10:30,790 INFO MQTT Publishing 'node' formatted msg
2022-04-06 20:10:40,761 INFO MQTT Publishing 'node' formatted msg
2022-04-06 20:10:50,732 INFO MQTT Publishing 'node' formatted msg
2022-04-06 20:11:00,723 INFO MQTT Publishing 'node' formatted msg
2022-04-06 20:11:10,686 INFO MQTT Publishing 'node' formatted msg
2022-04-06 20:11:20,660 INFO MQTT Publishing 'node' formatted msg
2022-04-06 20:11:30,556 INFO MQTT Publishing 'node' formatted msg
2022-04-06 20:11:40,632 INFO MQTT Publishing 'node' formatted msg
2022-04-06 20:11:50,521 INFO MQTT Publishing 'node' formatted msg
2022-04-06 20:12:00,499 INFO MQTT Publishing 'node' formatted msg
2022-04-06 20:12:10,283 INFO MQTT Publishing 'node' formatted msg
2022-04-06 20:12:20,194 INFO MQTT Publishing 'node' formatted msg
2022-04-06 20:12:30,379 INFO MQTT Publishing 'node' formatted msg
2022-04-06 20:12:40,155 INFO MQTT Publishing 'node' formatted msg
2022-04-06 20:12:50,246 INFO MQTT Publishing 'node' formatted msg
2022-04-06 20:13:00,110 INFO MQTT Publishing 'node' formatted msg
2022-04-06 20:13:10,106 INFO MQTT Publishing 'node' formatted msg
2022-04-06 20:13:20,080 INFO MQTT Publishing 'node' formatted msg
2022-04-06 20:13:30,055 INFO MQTT Publishing 'node' formatted msg
2022-04-06 20:13:40,161 INFO MQTT Publishing 'node' formatted msg
2022-04-06 20:13:50,136 INFO MQTT Publishing 'node' formatted msg
2022-04-06 20:14:00,117 INFO MQTT Publishing 'node' formatted msg
2022-04-06 20:14:10,002 INFO MQTT Publishing 'node' formatted msg
2022-04-06 20:14:19,900 INFO MQTT Publishing 'node' formatted msg
2022-04-06 20:14:29,975 INFO MQTT Publishing 'node' formatted msg
2022-04-06 20:14:39,856 INFO MQTT Publishing 'node' formatted msg
2022-04-06 20:14:49,829 INFO MQTT Publishing 'node' formatted msg
2022-04-06 20:14:59,801 INFO MQTT Publishing 'node' formatted msg
2022-04-06 20:15:09,802 INFO MQTT Publishing 'node' formatted msg
2022-04-06 20:15:19,780 INFO MQTT Publishing 'node' formatted msg
2022-04-06 20:15:29,747 INFO MQTT Publishing 'node' formatted msg
2022-04-06 20:15:39,716 INFO MQTT Publishing 'node' formatted msg
2022-04-06 20:15:49,689 INFO MQTT Publishing 'node' formatted msg
2022-04-06 20:15:59,669 INFO MQTT Publishing 'node' formatted msg
2022-04-06 20:16:09,643 INFO MQTT Publishing 'node' formatted msg
2022-04-06 20:16:19,532 INFO MQTT Publishing 'node' formatted msg
2022-04-06 20:16:29,503 INFO MQTT Publishing 'node' formatted msg
2022-04-06 20:16:39,477 INFO MQTT Publishing 'node' formatted msg
2022-04-06 20:16:49,453 INFO MQTT Publishing 'node' formatted msg
2022-04-06 20:16:59,430 INFO MQTT Publishing 'node' formatted msg
2022-04-06 20:17:09,403 INFO MQTT Publishing 'node' formatted msg
2022-04-06 20:17:19,276 INFO MQTT Publishing 'node' formatted msg
2022-04-06 20:17:29,313 INFO MQTT Publishing 'node' formatted msg
2022-04-06 20:17:39,288 INFO MQTT Publishing 'node' formatted msg
2022-04-06 20:17:49,075 INFO MQTT Publishing 'node' formatted msg
2022-04-06 20:17:59,052 INFO MQTT Publishing 'node' formatted msg
2022-04-06 20:18:08,977 INFO MQTT Publishing 'node' formatted msg
2022-04-06 20:18:18,961 INFO MQTT Publishing 'node' formatted msg
2022-04-06 20:18:28,937 INFO MQTT Publishing 'node' formatted msg
2022-04-06 20:18:38,923 INFO MQTT Publishing 'node' formatted msg
2022-04-06 20:18:48,808 INFO MQTT Publishing 'node' formatted msg
2022-04-06 20:18:58,780 INFO MQTT Publishing 'node' formatted msg
2022-04-06 20:19:08,749 INFO MQTT Publishing 'node' formatted msg
2022-04-06 20:19:18,726 INFO MQTT Publishing 'node' formatted msg
2022-04-06 20:19:28,708 INFO MQTT Publishing 'node' formatted msg
2022-04-06 20:19:38,578 INFO MQTT Publishing 'node' formatted msg
2022-04-06 20:19:48,633 INFO MQTT Publishing 'node' formatted msg
2022-04-06 20:19:58,418 INFO MQTT Publishing 'node' formatted msg
2022-04-06 20:20:08,394 INFO MQTT Publishing 'node' formatted msg
2022-04-06 20:20:18,583 INFO MQTT Publishing 'node' formatted msg
2022-04-06 20:20:28,250 INFO MQTT Publishing 'node' formatted msg
2022-04-06 20:20:38,428 INFO MQTT Publishing 'node' formatted msg
2022-04-06 20:20:48,419 INFO MQTT Publishing 'node' formatted msg
2022-04-06 20:20:58,401 INFO MQTT Publishing 'node' formatted msg
2022-04-06 20:21:08,183 INFO MQTT Publishing 'node' formatted msg
2022-04-06 20:21:18,070 INFO MQTT Publishing 'node' formatted msg
2022-04-06 20:21:28,048 INFO MQTT Publishing 'node' formatted msg
2022-04-06 20:21:37,939 INFO MQTT Publishing 'node' formatted msg
2022-04-06 20:21:47,935 INFO MQTT Publishing 'node' formatted msg
2022-04-06 20:21:57,988 INFO MQTT Publishing 'node' formatted msg
2022-04-06 20:22:07,763 INFO MQTT Publishing 'node' formatted msg
2022-04-06 20:22:17,738 INFO MQTT Publishing 'node' formatted msg
2022-04-06 20:22:27,710 INFO MQTT Publishing 'node' formatted msg
2022-04-06 20:22:37,681 INFO MQTT Publishing 'node' formatted msg
2022-04-06 20:22:47,651 INFO MQTT Publishing 'node' formatted msg
2022-04-06 20:22:57,643 INFO MQTT Publishing 'node' formatted msg
2022-04-06 20:23:07,611 INFO MQTT Publishing 'node' formatted msg
2022-04-06 20:23:17,498 INFO MQTT Publishing 'node' formatted msg
2022-04-06 20:23:27,469 INFO MQTT Publishing 'node' formatted msg
2022-04-06 20:23:37,443 INFO MQTT Publishing 'node' formatted msg
2022-04-06 20:23:47,210 INFO MQTT Publishing 'node' formatted msg
2022-04-06 20:23:57,181 INFO MQTT Publishing 'node' formatted msg
2022-04-06 20:24:07,102 INFO MQTT Publishing 'node' formatted msg
2022-04-06 20:24:35,140 INFO MainThread Logging level set to DEBUG
2022-04-06 20:24:35,142 INFO MainThread Setting RFM2Pi calibration: 230V (1p)
2022-04-06 20:24:35,243 DEBUG RFM2Pi acknowledged command: > 1p
2022-04-06 20:24:35,553 DEBUG RFM2Pi acknowledged command: i - set node ID (standard node ids are 1…30)
2022-04-06 20:24:35,659 DEBUG RFM2Pi acknowledged command: b - set MHz band (4 = 433, 8 = 868, 9 = 915)
2022-04-06 20:24:35,766 DEBUG RFM2Pi acknowledged command: o - change frequency offset within the band (default 1600)
2022-04-06 20:24:35,978 DEBUG RFM2Pi acknowledged command: g - set network group (RFM12 only allows 212, 0 = any)
2022-04-06 20:24:36,084 DEBUG RFM2Pi acknowledged command: c - set collect mode (advanced, normally 0)
2022-04-06 20:24:36,145 INFO MainThread Setting emoncmsorg senddata: 1
2022-04-06 20:24:36,145 INFO MainThread Setting emoncmsorg sendstatus: 1
2022-04-06 20:24:36,296 DEBUG RFM2Pi acknowledged command: …, a - send data packet to node , request ack
2022-04-06 20:24:36,401 DEBUG RFM2Pi acknowledged command: …, s - send data packet to node , no ack
2022-04-06 20:24:36,506 DEBUG RFM2Pi acknowledged command: q - set quiet mode (1 = don't report bad packets)
2022-04-06 20:24:36,613 DEBUG RFM2Pi acknowledged command: x - set reporting format (0: decimal, 1: hex, 2: hex+ascii)
2022-04-06 20:24:36,784 DEBUG emoncmsorg Buffer size: 3
2022-04-06 20:24:36,927 DEBUG RFM2Pi acknowledged command: ,,, f - FS20 command (868 MHz)
2022-04-06 20:24:37,033 DEBUG RFM2Pi acknowledged command: ,, k - KAKU command (433 MHz)
2022-04-06 20:24:37,240 DEBUG RFM2Pi device settings updated: E i5 g210 @ 433 MHz q1
2022-04-06 20:24:37,353 DEBUG RFM2Pi 452 NEW FRAME : OK 15 62 117 85 85 55 11 54 85 85 85 85 85 85 85 246 64 85 85 85 85 85 85 85 85 85 85 85 85 85 85 39 83 101 32 101 32 84 85 85 85 (-54)
2022-04-06 20:24:37,356 DEBUG RFM2Pi 452 Timestamp : 1649273077.353317
2022-04-06 20:24:37,357 DEBUG RFM2Pi 452 From Node : 15
2022-04-06 20:24:37,357 DEBUG RFM2Pi 452 Values : [8299, 241.62, 99, 0, 0, 0, 5539, 0, 0, 0, 16.5, 300, 300, 1]
2022-04-06 20:24:37,358 DEBUG RFM2Pi 452 RSSI : -54
2022-04-06 20:24:37,359 DEBUG RFM2Pi 452 Sent to channel(start)' : ToEmonCMS
2022-04-06 20:24:37,359 DEBUG RFM2Pi 452 Sent to channel(end)' : ToEmonCMS
2022-04-06 20:24:37,475 DEBUG MQTT Publishing: emon/emontx3cm15/MSG 8299
2022-04-06 20:24:37,476 DEBUG MQTT Publishing: emon/emontx3cm15/Vrms 241.62
2022-04-06 20:24:37,477 DEBUG MQTT Publishing: emon/emontx3cm15/P1 99
2022-04-06 20:24:37,478 DEBUG MQTT Publishing: emon/emontx3cm15/P2 0
2022-04-06 20:24:37,479 DEBUG MQTT Publishing: emon/emontx3cm15/P3 0
2022-04-06 20:24:37,480 DEBUG MQTT Publishing: emon/emontx3cm15/P4 0
2022-04-06 20:24:37,481 DEBUG MQTT Publishing: emon/emontx3cm15/E1 5539
2022-04-06 20:24:37,483 DEBUG MQTT Publishing: emon/emontx3cm15/E2 0
2022-04-06 20:24:37,484 DEBUG MQTT Publishing: emon/emontx3cm15/E3 0
2022-04-06 20:24:37,485 DEBUG MQTT Publishing: emon/emontx3cm15/E4 0
2022-04-06 20:24:37,486 DEBUG MQTT Publishing: emon/emontx3cm15/T1 16.5
2022-04-06 20:24:37,487 DEBUG MQTT Publishing: emon/emontx3cm15/T2 300
2022-04-06 20:24:37,488 DEBUG MQTT Publishing: emon/emontx3cm15/T3 300
2022-04-06 20:24:37,489 DEBUG MQTT Publishing: emon/emontx3cm15/pulse 1
2022-04-06 20:24:37,490 DEBUG MQTT Publishing: emon/emontx3cm15/rssi -54
2022-04-06 20:24:37,491 INFO MQTT Publishing 'node' formatted msg
2022-04-06 20:24:37,492 DEBUG MQTT Publishing: emonhub/rx/15/values 8299,241.62,99,0,0,0,5539,0,0,0,16.5,300,300,1,-54