I have just come back to my PC and it so happens I had left the Browser on the My Electric App page.
I have this error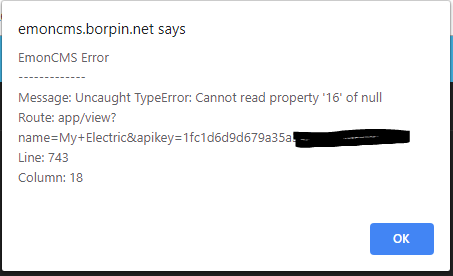 The session has expired as when I try and go to the admin page I get
My suspicion is that the complaint is due to the expiry of the session. However, the 'use now' was changing and I could zoom in/out of the graph.
I do not click the 'remember me' when I log in.
Server Information

Server Information

Services

emoncms_mqtt :- Active Running
feedwriter :- Active Running - sleep 10s 10 feed points pending write
service-runner :- Active Running
redis-server :- Active Running

Emoncms

Version :- low-write 10.1.6-beta
Modules :- Administration | App v2.0.5 | Backup v2.0.0 | Dashboard v2.0.4 | Device v2.0.1 | EventProcesses | Feed | Graph v2.0.3 | Input | CoreProcess | Schedule | Time | User | Visualisation
Git :-

Branch :- * master
Describe :- 10.1.5-1-ge1f5f1ec

Server

OS :- Linux 4.9.0-6-amd64
Host :- DietPi-EmoncmsVM | DietPi-EmoncmsVM | (192.168.7.47)
Date :- 2019-09-05 21:09:06 BST
Uptime :- 21:09:06 up 59 days, 1 min, 1 user, load average: 0.08, 0.02, 0.01

Memory

RAM :- Used: 71.00%

Total :- 492.5 MB
Used :- 349.67 MB
Free :- 142.84 MB

Swap :- Used: 0.09%

Total :- 1.52 GB
Used :- 1.46 MB
Free :- 1.52 GB

Disk

/ :- Used: 44.53%

Total :- 7.81 GB
Used :- 3.48 GB
Free :- 4.24 GB

HTTP

Server :- lighttpd/1.4.45 HTTP/1.1 CGI/1.1 443

MySQL

Version :- 5.5.5-10.1.26-MariaDB-0+deb9u1
Host :- localhost:6379 (127.0.0.1)
Date :- 2019-09-05 21:09:05 (UTC 01:00‌​)
Stats :- Uptime: 5097651 Threads: 2 Questions: 7096234 Slow queries: 0 Opens: 37 Flush tables: 1 Open tables: 31 Queries per second avg: 1.392

Redis

Version :- 3.2.6
Host :- localhost:6379
Size :- 264 keys (927.67K)
Uptime :- 59 days

MQTT Server

Version :- Mosquitto ?
Host :- 192.168.7.50:1883 (192.168.7.50)

PHP

Version :- 7.0.33-0+deb9u3 (Zend Version 3.0.0)
Modules :- apcu v5.1.8 | calendar v7.0.33-0+deb9u3 | cgi-fcgi | Core v7.0.33-0+deb9u3 | ctype v7.0.33-0+deb9u3 | curl v7.0.33-0+deb9u3 | date v7.0.33-0+deb9u3 | dom v20031129 | exif v7.0.33-0+deb9u3 | fileinfo v1.0.5 | filter v7.0.33-0+deb9u3 | ftp v7.0.33-0+deb9u3 | gd v7.0.33-0+deb9u3 | gettext v7.0.33-0+deb9u3 | hash v1.0 | iconv v7.0.33-0+deb9u3 | json v1.4.0 | libxml v7.0.33-0+deb9u3 | mbstring v7.0.33-0+deb9u3 | mcrypt v7.0.33-0+deb9u3 | mosquitto v0.4.0 | mysqli v7.0.33-0+deb9u3 | mysqlnd vmysqlnd 5.0.12-dev - 20150407 - $Id: b5c5906d452ec590732a93b051f3827e02749b83 $ | openssl v7.0.33-0+deb9u3 | pcre v7.0.33-0+deb9u3 | PDO v7.0.33-0+deb9u3 | pdo_mysql v7.0.33-0+deb9u3 | Phar v2.0.2 | posix v7.0.33-0+deb9u3 | readline v7.0.33-0+deb9u3 | redis v3.1.6 | Reflection v7.0.33-0+deb9u3 | session v7.0.33-0+deb9u3 | shmop v7.0.33-0+deb9u3 | SimpleXML v7.0.33-0+deb9u3 | sockets v7.0.33-0+deb9u3 | SPL v7.0.33-0+deb9u3 | standard v7.0.33-0+deb9u3 | sysvmsg v7.0.33-0+deb9u3 | sysvsem v7.0.33-0+deb9u3 | sysvshm v7.0.33-0+deb9u3 | tokenizer v7.0.33-0+deb9u3 | wddx v7.0.33-0+deb9u3 | xml v7.0.33-0+deb9u3 | xmlreader v7.0.33-0+deb9u3 | xmlwriter v7.0.33-0+deb9u3 | xsl v7.0.33-0+deb9u3 | Zend OPcache v7.0.33-0+deb9u3 | zip v1.13.5 | zlib v7.0.33-0+deb9u3
Client Information

Client Information

HTTP

Browser :- Mozilla/5.0 (Windows NT 10.0; Win64; x64) AppleWebKit/537.36 (KHTML, like Gecko) Chrome/76.0.3809.132 Safari/537.36
Language :- en-GB,en-US;q=0.9,en;q=0.8

Window

Screen

Resolution :- 1920 x 1080