Hi Everyone, I'm hoping I can test a few assumptions with you about why what I'm trying to do isn't currently working! I have tried to read the various FAQs and try the obvious solutions (aside from one because it involves buying something, which I'll mention later) in advance of posting this, which I'm now doing basically out of my brain having mostly given up.
I have an existing grid / solar monitoring system using an emonPi that's been working flawlessly for a while. I also have a solar diverter which presents no surprises and also reads via a wireless clamp meter in the main meter box next to the emonPi.
As someone that enjoys my nerd stats, I'm trying to fix the issue around not being able to split out the diverted use and the 'everything else' use, so I have installed an emonTx next to the diverter itself, and have set it up according to the following extremely professional diagram: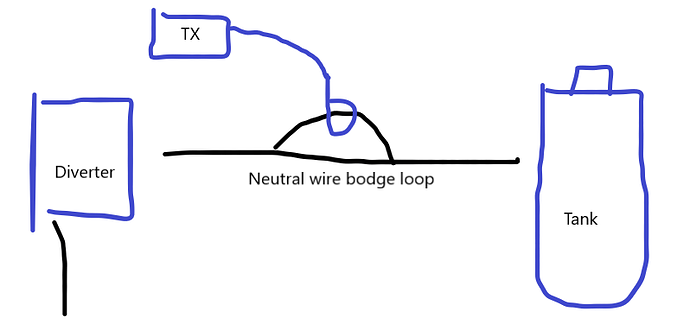 The CT is clipped onto the (safely secured!) separated out neutral wire and I've tried it in various different inputs, but I'm getting a situation very similar to the FAQs where the max reported figure is in single digits (typically 7) and not the up to 2.3kw I would expect. The one thing I haven't tried is whether the CT I'm using (the blue default one) is just too big for the smaller-grade wire in use here? Is it worth me waiting for the smaller one on the store to be in stock, or would someone be able to recommend a suitable alternative? Alternatively, am I likely to be missing something completely?
Thanks.