Hi all,
I realise this is not really the correct forum to ask this on - but this is the only place I could find where people are actively discussing real DIY BMSs…
If it is too far off topic, then please delete this thread.
I am contemplating another project, incidentally related to Open Energy Monitor (which I may open another thread on, if that is OK). But for this project, I would need a high voltage battery - at least 320V when empty - so 100s-150s depending on chemistry. Max 10Ah, but probably smaller.
I have been playing around with cell-top BMS designs for a while, pretty much on the same lines as diyBMS. But this is not great for such large packs. Number and size of boards. Slow comms and high current consumption with opto-isolated comms. And cost, which escalates quite quickly when going to 100s+ configurations.
I have played with some optimisations to reduce size and cost.
Capacitive coupled comms: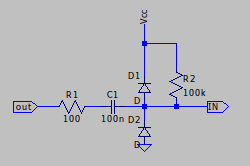 This gives much higher comms rate at virtually no cost - but can not tolerate more than ~0.3V difference between adjacent cells before comms break down.
Active balancing:

I have been testing this a bit. Can PWM the PMOS to transfer charge to the previous cell, or the NMOS to transfer charge to the next. Saves a lot of board space and gets rid of thermal management issues. Can run it feed-forward in DCM mode for a really simple design. BUT it results in fairly high current pulses for charging, and I have not been able to find any real research as to the long term effects this might have on the battery.
That takes the cell-top BMS about as far as it can go, but the complexity of wiring 100s of these BMSs up is daunting.
I have been looking at commercial BMICs as well.
L9961TR seems about the cheapest at $2 for 5 cells (plus probably another $1 for an extra uC to handle isolated inter-board comms). But accuracy is poor, and balance current is limited to 70mA - although this could be OK for a well matched low capacity pack.
L9963E is only a little more expensive at $9 for 14 cells with built in inter-board comms and a (fairly) minimal external BOM. 200mA balance current with internal transistors, but can also switch bigger external transistors for higher current balancing. But it requires a minimum 3 layer PCB for its fairly demanding analog layout requirements.
There are a few others out there, but they all seem to have similar capabilities/costs.
Now the questions…
Are there any DIY contenders out there for 100s packs?
Are there any DIY projects out there based on commercial BMICs?
If not, is anyone else interested in investigating one of the above 2 BMICs as part of a modular BMS system?
Any tips advice or other feedback will be greatly appreciated.
Thanks,
Justin