My emonCMS runs on the emonPI, not the hosted version.
I have some pickups on my central heating zone valves, and pump (optical isolators that feed a PIZero which makes API calls to the emonPI). As the data changes infrequently the PI only makes an API call to the emon on state change or every 10 minutes.
As the data changes so infrequently I process the input as PHPTIMESERIES, this works fine, except when I want to graph the data, the emon connects the infrequent points by lines and I get a "sawtooth" plot (pic 1). it's hard to see what's going on.
What I want to see is the value graphed held the same until the next change, so I get a "step". I can do this myself with a bit of post processing in Python/Pandas, (pic2) it's a lot easier to see the timing of the valve opening then the pump running.
Is there a way to do this in emonCMS?
PS if not possible and anyone wants it a little example of how to do this is attached, it uses dumped data but can also be used with the API reading scripts I shared earlier.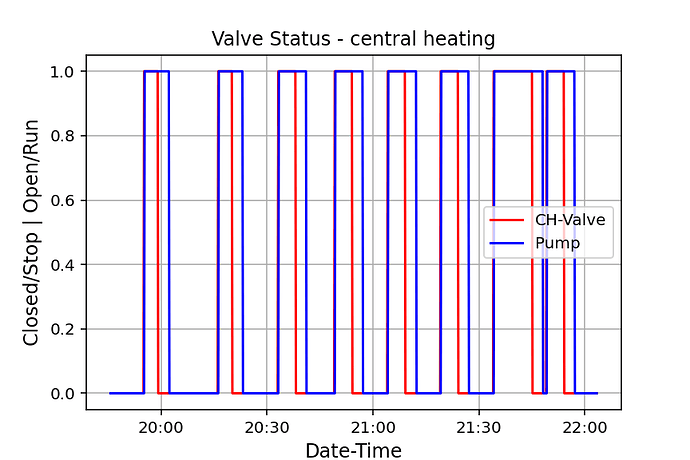 step_data_example_py.zip
(53.1 KB)
My EmonPI Config:
Components: Emoncms Core v10.8.5 | App v2.3.4 | EmonHub Config v2.1.1 | Dashboard v2.1.5 | Device v2.1.3 | Graph v2.1.1 | Network Setup v1.0.2 | WiFi v2.1.0 | Backup v2.3.2 | DemandShaper v2.2.2 | Postprocess v2.2.2 | Sync v2.1.1 | Usefulscripts v2.3.7 | EmonScripts v1.4.0 | RFM2Pi v1.4.1 | Avrdude-rpi v1.0.0 | Emonhub v2.3.1 | EmonPi v2.9.4