There are a couple of new developments now available for testing in the Emoncms and EmonScripts master branches.
Serial Monitor
The first is a serial monitor tool, useful for serial configuration of connected hardware. Using this tool it is possible to connect up say an EmonTx up to an emonPi/emonBase and then configure the EmonTx by sending calibration commands. It will also be possible to use the tool to configure the soon to be released continuous sampling firmware for the emonPi that @Robert.Wall has been working on.
Example screenshot showing command entry:
Extended firmware upload options
With this change it is now possible to upload a wider range of firmware options from an emonPi/emonBase, either to upload the emonPi/base firmware itself or to upload firmware to a connected EmonTx or EmonTH. It's also possible to select a firmware version to upload. The available firmwares are defined in the EmonScripts repository EmonScripts/firmware_available.json at master · openenergymonitor/EmonScripts · GitHub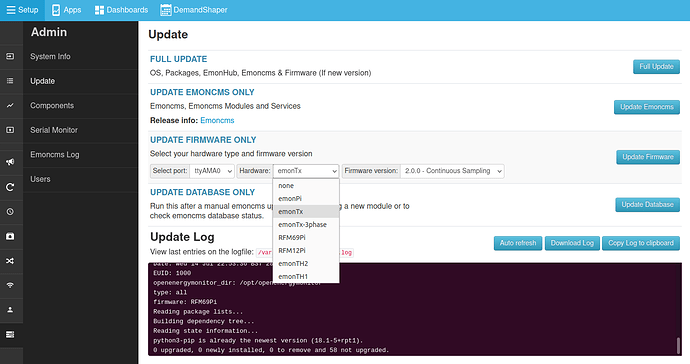 Both of the above features are now available in the master branch for testing. I will aim to do a stable release with these in 1-2 weeks time.
Admin module refactoring
Included in the above is a fair bit of admin module refactoring and splitting out of what was one page into several sub pages. I've also moved away from calling the update emonpiupdate, with the update log file now being called just update.log (/var/log/emoncms/update.log) and a couple of other related references changed.
The underlying mechanism to start, stop, restart and disable services has also been implemented in the backend, but not in the user interface yet apart from on the serial monitor page to start and stop emonhub.
Here's the API end points:
http://emonpi.local/admin/service/status?name=emonhub
http://emonpi.local/admin/service/stop?name=emonhub
http://emonpi.local/admin/service/start?name=emonhub
http://emonpi.local/admin/service/restart?name=emonhub
http://emonpi.local/admin/service/disable?name=emonhub
http://emonpi.local/admin/service/enable?name=emonhub

Testing
To test these features, use the Admin > Components feature to switch both Emoncms Core and EmonScripts to their master branches.