Interesting breakdown, fascinated that Italy is so high. I expected Germany to be higher given that amount of installed solar PV.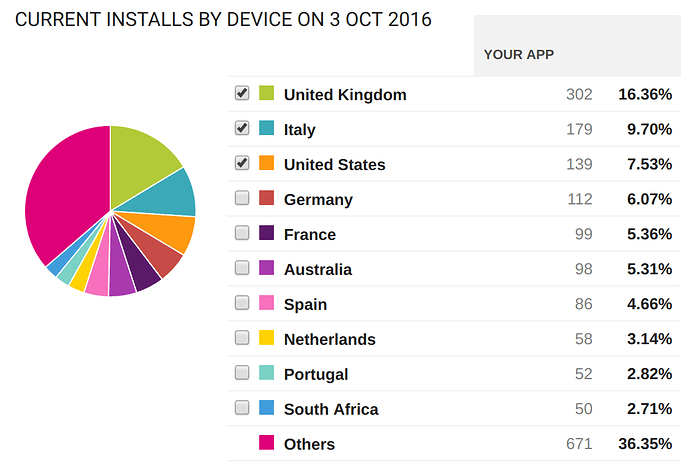 ---
Interestingly android app installs do not correlate to OpenEnergyMonitor shop order sale locations, here is a breakdown from last year (2015).
Note: these stats are based on the number of orders shipping to a particular country rather than revenue.
OpenEnergyMonitor Shipping Locations
United Kingdom 30.97%
United States 9.42%
Germany 7.36%
Italy 6.75%
Spain 5.19%
France 4.60%
Netherlands 4.52%
Australia 4.11%
Belgium 2.33%
Finland 1.69%
Sweden 1.61%
Switzerland 1.56%
Canada 1.52%
Ireland 1.49%
Portugal 1.46%
Denmark 1.36%
Austria 1.19%
New Zealand 1.09%
Brazil 1.07%
South Africa 0.81%
Norway 0.77%
Greece 0.63%
Hungary 0.44%
Slovenia 0.41%
Czech Republic 0.37%
Russian Federation 0.37%
Estonia 0.36%
India 0.31%
Poland 0.31%
Israel 0.30%
Singapore 0.28%
Slovakia 0.28%
Mexico 0.27%
Romania 0.26%
Japan 0.23%
Latvia 0.23%
Iceland 0.21%
Malaysia 0.21%
Turkey 0.21%
Chile 0.20%
Croatia 0.17%
Indonesia 0.17%
Bulgaria 0.16%
Ukraine 0.16%
Luxembourg 0.14%
Lithuania 0.13%
China 0.11%
Kenya 0.11%
United Arab Emirates 0.11%
Philippines 0.10%
Thailand 0.10%
Cyprus 0.07%
Malta 0.07%
Lebanon 0.06%
Costa Rica 0.04%
Maldives 0.04%
Saudi Arabia 0.04%
Bosnia and Herzegovina 0.03%
Cameroon 0.03%
Colombia 0.03%
Jordan 0.03%
Oman 0.03%
Pakistan 0.03%
Sri Lanka 0.03%
Albania 0.01%
Argentina 0.01%
Azerbaijan 0.01%
Barbados 0.01%
Botswana 0.01%
Namibia 0.01%
Peru 0.01%
Uganda 0.01%
Uruguay 0.01%